Hard Luck
(1921)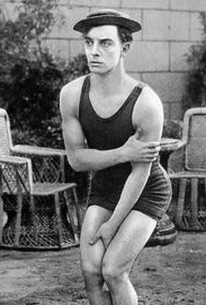 AUDIENCE SCORE
Critic Consensus: No consensus yet.
Movie Info
The plucky little guy that comedian Buster Keaton portrayed throughout most of his two-reel silents is just about out of pluck here. After being fired by his boss and jilted by his girlfriend, there seems to be nothing left but to end it all. And even that won't go right -- try as he might nothing works (and hilariously so). Throwing himself in front of a streetcar fails. He lamely tries to hang himself. The "poison" he swallows is someone's bootleg liquor stash. Desperately he throws himself in front of an oncoming pair of headlights, but it's not a car, it's two motorcycles that navigate easily around him. Suicide is forgotten when he somehow gets involved with a scientific search for an armadillo, which leads him to a country club. Notorious bandit Lizard Lip Luke (Joe Roberts) terrorizes the club's patrons, but Buster saves the day and the girl (Virginia Fox). "Now no one can stand in the way of our getting married!" he tells the young lady. "Except my husband over there," she retorts. Out of luck once again, Buster dons a swim suit, climbs up to the highest diving platform and jumps. Missing the pool completely, he goes through the tile and vanishes. "Years later" reads the title card, and we see the country club pool, overrun by weeds from misuse. The hole is still there, though, and Buster promptly emerges, a Chinese wife and two Chinese-American kids in tow. Out of all the two-reelers he made, Keaton said that Hard Luck was his favorite, and he claimed that performing the high dive was the greatest thrill of his life. Unfortunately, the end of Hard Luck has deteriorated with time (although the rest of the film is mostly intact), and apparently only fragments of it exist.
Critic Reviews for Hard Luck
There are no critic reviews yet for Hard Luck. Keep checking Rotten Tomatoes for updates!
Audience Reviews for Hard Luck
"Hard Luck" is 21 minutes in length and is another of his shorts that has truly black humor as the subject of the film revolves around Buster playing a down and out guy who tries and fails to commit suicide (in various hilarious moments). Buster Keaton himself said that the end gag, which unfortunately is lost to time (3 minutes total), was his favorite and most laughable gag in his career. "Hard Luck" was lost for over 60 years, even through Buster's death, and it's a wonder we have it today in such a close to complete version. The film does a good job of detailing what happens as Buster jumps from the high dive and then transitions to the hole in the ground and tells more details via inter-title about what happens next and ends with a single still image that sums it up! I won't spoil it because it was Buster's personal favorite gag and is truly laugh out loud hilarious! This short is a must see!
Chris Browning
Super Reviewer
Wonderful short with botched suicide attempts, hilarious ways to mount a horse and a climactic high dive -- into the ground? -- that doesn't even seem humanly possible to survive.
Eric Broome
Super Reviewer
½
Keaton constantly fails to commit suicide in this black comedy. It's hilarious.
Hard Luck Quotes
There are no approved quotes yet for this movie.
Discussion Forum
Discuss Hard Luck on our Movie forum!