Hard Ride To Hell
(2010)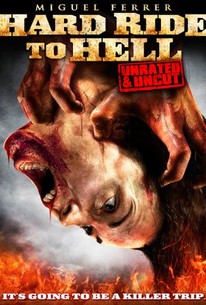 AUDIENCE SCORE
Critic Consensus: No consensus yet.
Movie Info
A group of terrified campers attempt to outrun a gang of devil-worshipping bikers in this high-octane horror flick starring Miguel Ferrer and Katherine Isabelle (Ginger Snaps). They were just looking for a place to pop a tent; now they're running for their lives. Texas can be a truly unforgiving place, especially if you've just stumbled into a blood sacrifice. Now, in order to escape their diabolical pursuers, the desperate vacationers flee to a remote ghost town and seek sanctuary in a derelict church. A chance encounter with a mysterious young boy and a malevolent priest, however, leads to a terrifying battle between good and evil that no mortal could ever survive.
Audience Reviews for Hard Ride To Hell
½
At first when I sat down to watch this film I only barely had expectations for the little blended flick. I went in to the picture expecting minimal story and bad acting that seem to dominate and overshadow a lot of smaller films story and concept. However with this film I was wrong completely. It had an almost Evil Dead cult aspect to it that I felt back when I was a kid and watched that damn evil dead woman fight her way into that cabin. It was low budget and independent and full of energy and the same with this film. If you like your demon cults and devil worshipers with leather and gasoline then this film is for you most definitely. The story was a cool through back to films like "Devil Rider" and "Hell Rider" blended with satanic ritual and devil possession and action it is a great exploitation/horror flick. The acting as a little generic but a few characters pull of real emotion and believability. The effects and action sequences though make up for it. Mostly stunt and organic effects used here with a very minimal cgi other than what is mystically necessary for a scene or two. The film was enjoyable and I found myself thinking ahead to a sequel coming down the pike maybe for 2012 or something. There is still a lot more story here to explore. However the dialogue could have been a little deeper and fluid with the story. As some characters pulled of noticeable plausibility others seemed to almost phone it in just waiting for a payday. This film is a good one to see and if biker exploitation horror is a thing your into definitely pick it up. It has everything you may like. I don't normally go for biker horror stuff but I am not hetero so that pretty much should solve that. This film I liked a lot. It had psycho bikers, satanic worship, mythology, gore, action and possession. So yeah definitely a film for the collection.
rick russ
Young people attacked in the woods is not new. I've seen this done a lot worse than this. don't get me wrong, it's bad, but not terrible. The acting is far superior than most low budget films of this genre. It's not as gory as it could be. The back story of the bikers could have made it a little more interesting. Like a combination of From Dusk til Dawn and Race With The Devil.
Brent Carnes
Terrible low-budget crap-fest. The acting is a bit better than usual for these. Few redeeming features. Devil-worshippers on a beer budget. Simply awful.
Mike Bierman
Hard Ride To Hell Quotes
There are no approved quotes yet for this movie.
Discussion Forum
Discuss Hard Ride To Hell on our Movie forum!