Hard Ticket to Hawaii
(1987)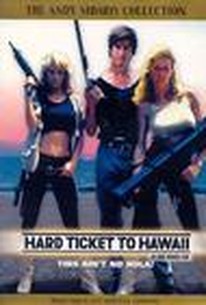 AUDIENCE SCORE
Critic Consensus: No consensus yet.
Hard Ticket to Hawaii Photos
Movie Info
Two gorgeous women -- Donna (Dona Speir) and Taryn (Hope Marie Carlton) -- operate a airplane cargo delivery service in Hawaii. Their latest shipment includes a very large, very nasty snake destined for the local zoo. But the delivery is interrupted when they stumble on a cache of diamonds that were to go to a ruthless drug dealer, Seth (Rodrigo Obregon). Seth sends a transvestite to kidnap the owner of a restaurant, Edy (Cynthia Brimhall), so his men can torture her with a female bodybuilder into revealing where Donna and Taryn are. Luckily for all the good guys, Special Agent Rowdy Abilene (Ronn Moss) has a bazooka, and he knows how to use it. And unluckily for Seth, that nasty snake has broken out of its box.
Audience Reviews for Hard Ticket to Hawaii
Too hilariously bad to condemn nor earn a passing grade. HARD TICKET TO HAWAII is recommendable for all the wrong reasons.
The Animatinator
½
A cheesy low budget action movie, yes. If you love cheesy low budget movies, though, it's gold! I enjoyed it.
Hard Ticket To Hawaii is a gloriously campy action film that features plenty of action, cheap sex and nudity, terrible acting and dialogue, a killer boa constrictor, drug dealers, and secret agents. These elements make for an immensely enjoyable B-movie that is pure joy to watch from start to finish. It's a totally nonsensical mess of a film, but it's a mess so entertaining and weird, that I could not possibly dislike it because of all the things I've already mentioned. If you love your action films with dollops of cheesy goodness, you gotta see this one.
Keenan Sullivan
Hard Ticket to Hawaii Quotes
There are no approved quotes yet for this movie.
Discussion Forum
Discuss Hard Ticket to Hawaii on our Movie forum!