The Hard Word
(2003)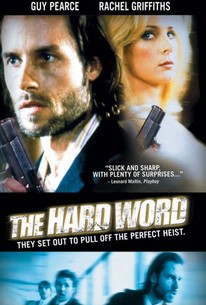 Movie Info
Three brothers who would argue that crime does pay have a hard time getting their fair share of the proceeds in this witty action thriller from Australia. Dale Twentyman (Guy Pearce) and his brothers, Mal (Damien Richardson) and Shane (Joel Edgerton), are serving time together in prison for robbery. Dale is the brains and the cool head of the group, Mal is the eager-to-please nice guy, and Shane is something of a loose cannon. Dale and his siblings are eager to get out of jail, and their lawyer, Frank Malone (Robert Taylor), has pulled a deal that could pare some time off their sentences, though the arrangement is strictly off the books. Mick Kelly (Vince Colosimo) and Jack O'Riordan (Paul Sonkkila) are a pair of crooked police detectives who have arranged with Malone to give the Twentyman brothers day passes from jail in order to pull bank robberies, with the siblings' share held in escrow until they're released. Dale thinks something a bit off in this operation, and his suspicions are confirmed when Malone tells the brothers after they're granted their early release that they won't get their money until they pull one last job -- an ambitious robbery at a Melbourne race track on the day of the nation's biggest horse race. Dale is convinced he smells a rat -- especially since he has good reason to suspect that Malone is having an affair with his wife, Carol (Rachel Griffiths). The Hard Word marked the directorial debut for writer/director Scott Roberts.
Critic Reviews for The Hard Word
Audience Reviews for The Hard Word
poor heist film with silly plotting. pearce is good in the lead but the whole plan and characters are very one dimensional
Brendan Nicholls
Super Reviewer
I can't really think of anything good to say about this flick other then the description sounded interesting & that's the only reason I picked it up at the local library.That & I didn't have to pay for it
Brody Manson
Super Reviewer
½
Watch this if ur into Snatch and Lock Stock style movies - this Aussie version is a great movie along those lines - and worth watching - If your aussie you'll get the jokes no problem.
The Hard Word Quotes
There are no approved quotes yet for this movie.