Hardflip
(2012)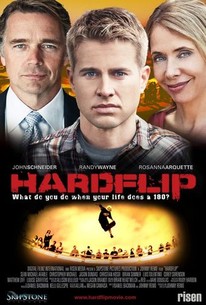 AUDIENCE SCORE
Critic Consensus: No consensus yet.
Movie Info
Hardflip follows the story of Caleb (Randy Wayne) a young skater whose ill mother (Rosanna Arquette) and absent father (John Schneider) leave him reaching for the only hope he has...becoming a sponsored skater. After finding a stack of old love letters, he sets out to find the father he never knew and inadvertently begins a journey he never could have expected. This story explores what happens when we let go of our anger and pain and forgive those who have hurt us most. -- (C) Official Site
Critic Reviews for Hardflip
There are no critic reviews yet for Hardflip. Keep checking Rotten Tomatoes for updates!
Audience Reviews for Hardflip
"Hardflip" is no different than your typical Christian film. It's cliche, stereotypical, predictable, and boring. The director doesn't deal with his themes subtly and instead shoves them your face. I prefer themes to be underlying in films; having them spoon-fed to you detracts from the story and makes the film more of a propaganda. Which this is. Here's the case with most Christian films: Main character is not a Christian. Said character is going through some rough times. He/she gets introduced to God and is skeptical at first. Character eventually accepts God and everyone's happy. This formula gets old really fast. First off, I have met people who have overcome obstacles without God. I know people who are not Christians and are perfectly happy. "Hardflip" makes it out that if you're not a Christian then you're some punk who has no direction in life and likes to get drunk all the time. Seriously? Grow up Johnny Remo. I know Christians that act the same way. The film portrays people so stereotypically that it makes the director come off as ignorant and out of touch with real world. Remo is so determined in getting his 'life changing' message across that he forgets to create people that are genuine and real. His other film "Cutback" is even worse, and the cliches are so obvious that it will make you cringe.
Eric Shankle
Super Reviewer
Hardflip Quotes
There are no approved quotes yet for this movie.