Harlan - Im Schatten von Jud Süss (Harlan: In the Shadow of Jew Seuss)
(2010)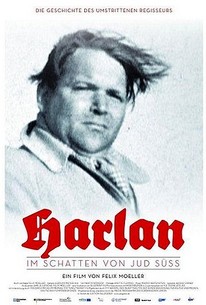 Harlan - Im Schatten von Jud Süss (Harlan: In the Shadow of Jew Seuss) Photos
Movie Info
Many Germans who collaborated with the Nazi regime during the Third Reich later found themselves standing trial for crimes against humanity, but only one was an artist prosecuted for his work. Veit Harlan was a film director who, unlike many noted German auteurs, chose to stay in his homeland after Adolf Hitler rose to power, and made films under the supervision of the Nazi propaganda authorities. Harlan's best-known picture was Jud Süss (aka Jew Süss), a vehemently anti-Semitic drama that was required viewing for Hitler's top brass, a frequent attraction in Germany and occupied countries, and with the possible exception of Leni Riefenstahl's Triumph of the Will, the most notorious film to emerge from the Third Reich. Harlan was tried for his work as a Nazi propagandist, though he insisted he was coerced into making Jud Süss and other pro-Nazi films (a contention disputed by a number of his colleagues); two trials failed to convict Harlan, and he continued to work in Europe until his death in 1964. Filmmaker Felix Moeller presents a look at the life and work of this most notorious director in the documentary Harlan: Im Schatten von Jud Süss (aka Harlan: In the Shadow of Jew Süss), which examines Harlan's career as well as the impact his legacy has had on his descendants, some of whom have struggled to right Harlan's wrongs while others have preferred to keep their distance from his tainted reputation. One of the distant relatives interviewed for the picture is Christiane Kubrick, Harlan's niece who later wed the great director Stanley Kubrick.
Rating:
NR
Genre:
, ,
Directed By:
Written By:
In Theaters:
On DVD:
Runtime:
Studio:
News & Interviews for Harlan - Im Schatten von Jud Süss (Harlan: In the Shadow of Jew Seuss)
Critic Reviews for Harlan - Im Schatten von Jud Süss (Harlan: In the Shadow of Jew Seuss)
Audience Reviews for Harlan - Im Schatten von Jud Süss (Harlan: In the Shadow of Jew Seuss)
What is initially interesting turns out to be a string of drawn-out interviews. Could have been made better, but it was not.
Thomas Andrikus
½
What a waste of time. This could have been a good doc, and it had everything going for it. Great subject matter with plenty of footage, conflict within a family, Kubrick's wife, and Nazi's. Moeller turns what should have been a 30 minute doc into a 2 hour borefest. It's also about Harlan making Jew Suss and he only shows about 5 minutes of the whole film, so you never get to see how offensive it really was. It repeats itself over and over and you never learn anything about Harlan or his real influence during the Nazi Regime. Watch The Wonderful Horrible Life of Leni Riefenstahl if you want to see a great doc about a Nazi filmmaker, because this one is a total waste of time.
cody franklin
Super Reviewer
Harlan - Im Schatten von Jud Süss (Harlan: In the Shadow of Jew Seuss) Quotes
There are no approved quotes yet for this movie.