Gaichu (Harmful Insect)
(2001)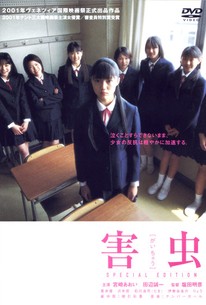 AUDIENCE SCORE
Critic Consensus: No consensus yet.
Movie Info
Following up on his acclaimed debut Moonlight Whispers (about a sadomasochistic relationship between two teens), Akihiko Shiota once again looks at troubled youth. Sachiko (played by Aoi Miyazaki of Eureka fame) is a 13-year-old junior high school student with a complicated family life. Her father left when she was an infant for a young mistress. Her mother (Ryo) -- a secretive and weirdly distanced woman -- works as a hostess and a kept woman for a mysterious gangster type. Sachiko finds some modicum of solace in the arms of her sixth grade teacher, Ogata (Seiichi Tanabe) who has a brief affair with her. As a result, he quits his job and starts working for a nuclear power plant far away. When her mother makes another halfhearted attempt at suicide, Sachiko's shattered emotional life becomes too much to bear and she drops out of school. Though she continues to correspond with Ogata, Sachiko is desperately lonely and alienated, leading to her consorting with other social dropouts. When her sole school friend Natsuko urges her to return to school, Sachiko finds that her long simmering rage against the world becomes difficult to control. This film was screened at the 2001 Toronto Film Festival. ~ Jonathan Crow, Rovi
Rating:
NR
Genre:
,
Directed By:
In Theaters:
Runtime:
Critic Reviews for Gaichu (Harmful Insect)
All Critics (3) | Fresh (2) | Rotten (1)
I'd love to know what the hell the title refers to, but, frankly, I'm not sure I care that much.

Audience Reviews for Gaichu (Harmful Insect)
½
Gaichu (Akihiko Shiota, 2001) (note: review originally published 29 November 2008) It would be tempting to see Gaichu (known in the west as Harmful Insect), Akihiko Shiota's fourth (and probably best-known) film, as a kind of Japanese version of American Beauty, but focused on Thora Birch rather than Kevin Spacey. And while there's certainly an element of alienation here that every girl between the ages of twelve and eighteen is more than likely to empathize with, and while American Beauty's unforgettable opening line casts a (relatively unsuccessful) pall over that picture, Gaichu finds nooks and crannies of desperation and depression that Sam Mendes has nightmares about. Sachiko (Tomie: The Forbidden Fruit's Aoi Miyazaki) is a twelve-year-old public school student in modern-day Japan. As the movie opens, we see her mother attempting suicide. You can tell this is not going to be a happy film, though there's an undeniable streak of (very, very) black comedy running through it; it makes the anger and outrage all the more piquant. What Shiota and writer Kiyono Yayoi (who, it seems, has never written another screenplay) are trying to get across in this slice-of-life drama is the almost complete indifference of Japanese society toward schoolgirls, or so it seemed to me; Sachiko is wrapped up in her own problems, yes, but the insular world of the schoolgirls is the lynchpin in the movie's most startling scene (and one I'll talk about at length in a few minutes). Adults exist in this movie, and some of them even try, in their ineffectual ways, to reach out to Sachiko (the movie's most notable face, Audition's Eihi Shiina, is one of them), but when the day is over, they have only themselves upon which to rely. The scene I talked about earlier is absolutely stunning, and says a great deal about why it is that Japan's filmmakers keep blowing us Americans away when we make the same kinds of movies. Sachiko is alone in the house with her mom's boyfriend of the week, who wanders into the kitchen with a roll of duct tape. He smiles at Sachiko. She looks a bit uncomfortable, but smiles back. He looks away, at the wall, at the corner. The roll of duct tape is constantly in the scene. He looks back at her, still smiling. It all sounds pedestrian when I write it out like that, but the scene's composition is phenomenal; the tension just keeps building, because the viewer has no idea what's going on with this guy. There are no words in the entire scene (the movie, in fact, has very little dialogue throughout); everything is conveyed through facial expression and camera angle. And, of course, Shiota's insistence on keeping our eyes glued to that roll of duct tape. Gaichu is a very tough movie to get ahold of if you happen to be in the west; worse, no official DVD release of it contains English subtitles. They can be found at subtitle sites, with the translation done by fans, if you have an all-region DVD player in your computer and are willing to pay the insane shipping costs to buy it straight from Japan. That said, in my opinion, Gaichu is well worth whatever the cost, especially if you're an American Beauty fan; while there's not much of a comparison to be actually made between the two films, I can certainly see AB's fanbase going gaga over this one. And rightly so; it's a fantastic piece of work. Do whatever you must to see this. **** 1/2
Robert Beveridge
While a good movie, I'm not sure why I didn't like it more. It seemed like it wanted to be something special, but many of the scenes didn't go anywhere. Maybe because I was so pissed off at the ending it hurt my liking the film.
Rick Baxter
Gaichu ( http://us.imdb.com/title/tt0297905/ ). A young girl's life is crumbling. Her dad left. Her mother tried to commit suicide after her boyfriend left her. The kids at school gossip about her all the time. Instead of going to school, she walks around town. She meets another drop out, who makes his money by jumping in front of cars and pretending to be hit. hmm... I don't know what to think about this one. Not a lot of dialogue, which sort of works here. Some scenes, such as the guy getting beat up, are unexplained but aren't really important anyway. I don't like the way males are represented. It's as if males are only trying to take advantage of young girls at every turn. The ending is unexpected and a bit abrupt. The whole thing questions how we deal with our problems. Points for the unique feel. 8/10
kjadlk akdsjflk
Gaichu (Harmful Insect) Quotes
There are no approved quotes yet for this movie.
Discussion Forum
Discuss Gaichu (Harmful Insect) on our Movie forum!