Harry in Your Pocket
(1973)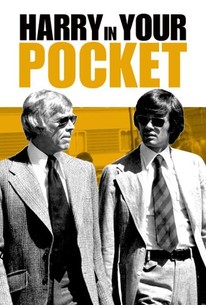 AUDIENCE SCORE
Critic Consensus: No consensus yet.
Harry in Your Pocket Photos
Movie Info
A crack team of petty thieves employ sophisticated methods to pick the pockets of assorted victims in this interesting crime drama.
Rating:
PG
Genre:
, ,
Directed By:
Written By:
Runtime:
Studio:
United Artists
Critic Reviews for Harry in Your Pocket
There are no critic reviews yet for Harry in Your Pocket. Keep checking Rotten Tomatoes for updates!
Audience Reviews for Harry in Your Pocket
In 1966, director Geller wrote, created, and produced the television series Mission: Impossible, the accomplishment for which he is best remembered. The show ran on CBS from 1966 to 1973 and earned him an Emmy Award in 1966 as the show's producer plus another for "Outstanding Writing Achievement in Drama." [img]https://www.movieposter.com/posters/archive/main/107/MPW-53557[/img] 80% (1973) Harry In Your Pocket DRAMA/ THRILLER Although they're better 'pickpocket' films made from other countries... More 80% I have seen this movie several times. It is much better than it is given credit for.. [img]http://3.bp.blogspot.com/-sXLGBJWOqWc/Tz6ysKwCpfI/AAAAAAAAGGY/CDYwYk5rKbg/s400/harry_in_your_pocket.jpg[/img] NOTES: 1 The movie is notable for giving a presumably-fictionalized but matter-of-fact way of how a wire mob operates and its jargon. In fact, it's said that the actors portraying the "cannon squad" in Seattle that tell Harry it's time to leave town were former pickpockets themselves and served as technical advisors to the movie. The movie makes extensive reference to a system of cant - pickpockets jargon. Some examples: Pickpocket definitions: Poke - The wallet, the object of the theft. Kick - any area on a person where a poke commonly resides. For instance, a prat kick is the mark's back pocket; the patch kick is the outside pocket in a suit jacket. Mark - The intended victim. Stall - Members of the team, working under the cannon who distract or "artfully stumble" into people giving the chance for the dip to occur. Cannon - The actual pickpocket, the leader of the group in this case. Also, apparently, the police slang term for same. Dip - The act of taking the poke. Steer - The member of the team who selects marks and telegraphs to the stalls and cannon where the poke will be found. [img]http://www.americancinemathequecalendar.com/sites/default/files/stills_events_390_240/harryinpocket390.jpg?1305841328[/img] 2 Harry's Law: Amongst the blunter points Harry makes is what is seen as the most important rule: Harry's Law: Harry never holds. Not for a minute, not for thirty seconds. This means that as soon as Harry's hit the mark, someone must be on hand to take the poke off his hands, providing cover for Harry and allowing him to go on and hit more marks. 3 Harry In Your Pocket was brought to DVD (or any other home video format), for the first time, on May 3, 2011, as part of the MGM Limited Edition Collection series. Directed by Bruce Geller Produced by Bruce Geller Alan Godfrey Written by James Buchanan Ronald Austin Starring James Coburn Michael Sarrazin Trish Van Devere Walter Pidgeon Music by Lalo Schifrin (same for 60's Mission Impossible TV series) Cinematography Fred J. Koenekamp Distributed by United Artists Release dates 1973 Running time 103 min. [img]http://www.cinemaretro.com/uploads/harrypocket.jpg[/img]
monsieur rick
½
Starts as a sprightly romp but deflates as it nears it's conclusion. Walter Pidgeon comes off best.