Hatchet II
(2010)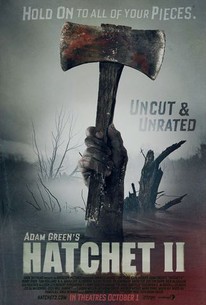 TOMATOMETER
AUDIENCE SCORE
Critic Consensus: Funnier and more gleefully gory than most slasher sequels, Hatchet II aims for so-bad-it's-good territory, but can't quite hack it.
Movie Info
Adam Green's Hatchet II picks up at the exact moment where 2006's Hatchet ends, wherein the quiet but hot-tempered Marybeth (Danielle Harris) is in a small boat in the Louisiana swamps, screaming for her life as she tries to free herself from the clutches of the deformed, swamp-dwelling killer Victor Crowley (Kane Hodder). Crowley has murdered Marybeth's family and other fellow vacationers who had come together on a tourist excursion in the swamp lands outside of New Orleans.

Marybeth escapes from Crowley and manages to make it back to civilization, where she once again encounters voodoo shop proprietor Reverend Zombie (Tony Todd), who had helped to arrange Marybeth and company's earlier, ill-fated tour of the area. To help Marybeth and also serve his own secret agenda, Reverend Zombie recruits a hardened pack of hunters to head back into the swamp to seek revenge on Victor Crowley.-- (C) Dark Sky Films
People Who Like this movie also like
News & Interviews for Hatchet II
Critic Reviews for Hatchet II
Audience Reviews for Hatchet II
A very simple follow up continuing from the same night as the first. Just another quick excuse for lots of extreme gore and kills with a very weak story line. One for the gorehounds, otherwise there is not much substance for anyone else.
While the first "Hatchet" isn't a classic by any stretch, it is a good homage(there's that word again Bob) to slasher movies. Victor Crowley may not be a Jason or Freddy, but he is an acceptable crazy horror villian. This one picks up right where the first one left off and follows Marybeth(the only survivor from 1) as she tries to get revenge against Crowley for killing her loved ones. Not rocket science to figure out how this movie goes. Lots of blood, guts, some sex, and great crazy kills. Must say this movie gets a solid B+ in the originality department when it comes to killing people. It you like crazy, bloody horror movies, then check it out. If you have a weak stomach, watch something else pansy.
Everett Johnson
Super Reviewer
½
Sequel to the awesome Hatchet, Hatchet II picks ups where the first one left off. Though lacking the fire of the original, Hatchet II is still an engaging horror flick with plenty of gore to appeal to fans of the first one. A young woman named Marybeth hires a bunch of hunters to find her family who disappeared in the Louisiana bayou. The legend of Victor Crowley makes people nervous, but Marybeth doesn't want to hear about it. I thought that this was a good sequel and I really enjoyed that director Adam Green returned as director for this entry, and it made it that much better. I find Adam Green to be a rising star in the horror genre and he crafts effective old school themed horror that are actually great, original, well acted and very entertaining. Victor Crowley returns of course and theres even more blood and mayhem in this sequel. Hatchet II is a fun and entertaining film that despite the fact that it slightly weaker than the first, still manages to be an effective horror film. There are a few things that could have been done better, but for the most part, Hatchet II is a definite must see for fans of the first film. Adam Green delivers yet another solid horror film, and I believe he should get more recognition as a director. Also another thing I enjoyed was seeing Tom Holland in this film playing Uncle Bob. For those familiar with him, he directed Fright Night and as a diehard fan of Fright Night I thought it was great to see him here. Hatchet II is a must see sequel that delivers the horrifying thrills.
Hatchet II Quotes
There are no approved quotes yet for this movie.