Hating Breitbart
(2012)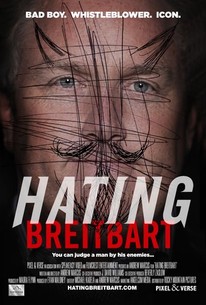 Movie Info
From ACORN to Weinergate, HATING BREITBART tells the story of one man with a website who forever changed the media paradigm, upending the traditional press and changing the ground rules of political journalism. He opened the floodgates to an army of citizen journalists who used new media to completely rewrite the narrative. In the process, he repeatedly found himself the target of a media feeding frenzy as the old paradigm's supporters pushed back. (c) Official Site
Rating:
PG-13 (for thematic material and brief strong language)
Genre:
,
Directed By:
Written By:
In Theaters:
On DVD:
Box Office:
$81,432.00
Runtime:
Studio:
Critic Reviews for Hating Breitbart
Audience Reviews for Hating Breitbart
Fascinating look at a man whose energy and determination helped drive the conservative movement. Breitbart was not afraid to take on bigoted critics of the Tea Party and point out their lies. His involvement with James O'Keefe & Project Veritas exposed the corruption and immoral behavior of ACORN employees. Overall, this is an excellent introduction to the conservative movement, and Breitbart's efforts on its behalf.
Cheryl Simeone
If you are interested in the "critics," you don't really understand Andrew and his idea of new media. You should watch this to gain some insight. A powerful piece on the willful manipulation by the mainstream media of the American public.
Nathan Jankov
I like the premise....I learned something....but all in all...as for a documentary......I thought it could be much better. However, very interesting to see it rated a 0%. Makes you wonder....even when you see a sh**%tty film critics find something good about it.....I guess people have to go on either of the spectrum......nothing lies in the middle.....no shades of gray....either black or white......you either with us or you are against us.......this or that......I guess this is the behavior and childish thinking that keeps people divided.
Dawn ??????
Hating Breitbart Quotes
There are no approved quotes yet for this movie.