Haunted Castle
(2001)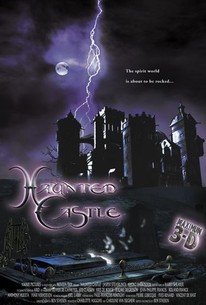 Movie Info
Some musicians would sell their soul for a shot at stardom, but one aspiring teenage rock star isn't so sure it's a good idea in this computer-animated chiller. Johnny (voice of Jasper Steverlinck) is the son of a famous rock singer (voice of Kyoko Baertsoen) who turned him over to others to raise when he was only three years old. After his mother's death, Johnny inherits her mansion, and as he explores the spooky old house in hopes of learning more about his absent mother, Johnny discovers an unexpected visitor -- a demon named Mephisto (voice of Harry Shearer). Mephisto informs Johnny that his mother was in cahoots with the Devil, and that he can make Johnny an even bigger star if he's willing to sign Satan's contract. While Johnny has formed a band of his own, he's dubious about Mephisto's promises; when he says as much, the Devil himself (also voiced by Shearer) scoffs at Johnny's disbelief, taking the young rocker on a guided tour of the Hell that awaits those who think they can escape the Devil's rule of the music business. Haunted Castle was filmed and initially exhibited in the high-definition IMAX film format; it was the first IMAX presentation that failed to earn a G rating from the MPAA (it was classified PG for "some frightening sensations and horror images").
Rating:
PG (for some frightening sensations and horror images)
Genre:
, ,
Directed By:
Written By:
In Theaters:
On DVD:
Box Office:
$12,377,813.00
Runtime:
Studio:
nWave Pictures
Critic Reviews for Haunted Castle
Audience Reviews for Haunted Castle
The movie is supposed to be shown in 3-D. But, they mad it so you can watch it in 2-D too. Bu, I recommend the 3-D version of the movie. Besides that, it's a great little film, I love the music in it the whole time.
Spencer Ruby
½
I had seen it years ago and barely remembered it. The story is corny as hell, albeit not entirely unbelievable for the genre, the music ranged between mediocre and decent, and the acting, dialogue, as well as the character development, are so stupid that they are actually laughable! I was almost surprised that they didn't have that washed up wench Cher play the mother role... The graphics are good by todays standards but that is the best thing about this cartoon; any film where the graphics/special effects are better than everything else, including and especially the actors, is never a good sign!! I'm sure that this was spectacular in an IMAX theater but, that doesn't really help the film here. Whether this was intentional or not, there is also a "thrill ride" feel to the film, especially what with the roller coaster gimmick towards the end. This is a film that is good for its visuals, best to be seen, and appreciated, in a theater setting. At home it is stupid and barely worth it...
Morpheus One
Do not see this movie. Great animation in the I-Max with a poor story line. You would be better seeing a good I-max documentary.
Joseph Kmiech
Haunted Castle Quotes
There are no approved quotes yet for this movie.
Discussion Forum
Discuss Haunted Castle on our Movie forum!