The Haunted World of El Superbeasto
(2009)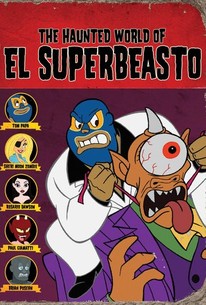 Movie Info
Paul Giamatti, Brian Posehn, Rosario Dawson, Danny Trejo, Daniel Roebuck, Tom Kenny, Tom Papa, and, of course, Sheri Moon Zombie all lend their voices to director Rob Zombie's animated tale of a washed-up luchador who makes it his mission to battle the forces of the supernatural. As the heroic El Superbeasto (voice of Papa) advances ever closer to his ultimate confrontation with the diabolical Dr. Satan (Giamatti), each adventure becomes more surreal and terrifying than the last.
Critic Reviews for The Haunted World of El Superbeasto
Audience Reviews for The Haunted World of El Superbeasto
A movie animated by John Kricfalusi... wait its not the creator of Ren and Stimpy who animated this? Oh its a cheap rip off of his and Tex Avery's animation style with gags that are old hack. I'm glad I was able to stream it for free.
James Alvarez
Super Reviewer
For an animated straight to dvd, it's amazing. The comedy worked so well because it's so perverted and creepy. It goes where shows like Family Guy or Simpsons have never had the nerve to go. All the voices were great, I loved Paul Giamatti and Rosario Dawson as a bickering couple. I have to say that Sheri Moon Zombie was my favorite part, she was priceless.
Conner Rainwater
Super Reviewer
A strange, crude, lude, violent, messy cartoon from writer/director Rob Zombie, who has based this work off the characters he created in a comic book. Anyone who has a fondness for both the grindhouse horror that Zombie is very much a fan of, as well as the cartoon style of Ren and Stimpy should be pleased by this film.
Aaron Neuwirth
Super Reviewer
The Haunted World of El Superbeasto Quotes
There are no approved quotes yet for this movie.