Head of State
(2003)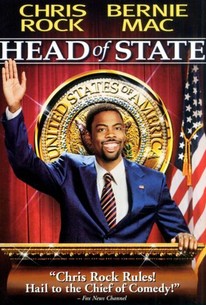 Movie Info
Can a high-attitude African-American politician who says what he thinks stand a chance in a presidential campaign? Mays Gilliam (Chris Rock) is a straight-talking alderman representing a inner-city neighborhood in Washington, D.C. In the midst of a hard-fought race for the White House, the Democratic presidential and vice-presidential candidates are killed in an airline crash, and with little time to prepare a new campaign, the Republican candidate, Vice President Brian Lewis (Nick Searcy), seems all but guaranteed to win. With practically nothing to loose, party head Martin Geller (Dylan Baker) approaches Gilliam and asks him to stand as the Democrat's presidential candidate. While Gilliam is dubious at first, before long his streetwise style and willingness to face the issues head-on earns him surprising figures in the polls, especially after he persuades his short-fused older brother, Mitch Gilliam (Bernie Mac), to join the ticket as vice presidential candidate -- a big jump for a bail bondsman. Gilliam's love life also becomes more complicated as his ex-girlfriend Kim (Robin Givens) decides she wants him back now that he has a shot at the White House, even though Gilliam only has eyes for Lisa (Tamala Jones). Head of State marked the directorial debut for comic and actor Chris Rock, who also co-wrote and co-produced the film.
Rating:
PG-13 (for language, some sexuality and drug references)
Genre:
Directed By:
Written By:
In Theaters:
On DVD:
Runtime:
Studio:
News & Interviews for Head of State
Critic Reviews for Head of State
Audience Reviews for Head of State
This is a very funny satire of our political system and of black culture with the general premise being a black man is chosen to run for president by a white establishment that assumes he'll lose. Chris Rock plays Mays Gilliam, an alderman who finds himself running for President of The United States after the original presidential candidate dies in a plane crash two months before the election. Obviously, he is being set up to lose, but (of course) begins winning over the people and ultimately taking control of his fixed campaign with his street smart unorthodox methods. Bernie Mac plays Alderman's bail bondsman brother turned vice president running mate providing laughter with his rough and rumble ways. Robin Givens plays Gilliam's stalker ex-girlfriend.
Foreshadowing. Most Chris Rock-lead movies are terrible, this one is his best.
Lenny Muggsy
Super Reviewer
I'm so glad the studios ended up trusting Chris Rock to direct a movie. Man, he should run for President. Although he crosses the surrealism line a little too often for my tastes, this movie was a hilarious indictment of phoniness in American politicians. I have a little souvenir "Crib Malt Liquor" bottle in my room.
Emily Armstrong
Super Reviewer