La Mujer sin Cabeza (The Headless Woman)
(2008)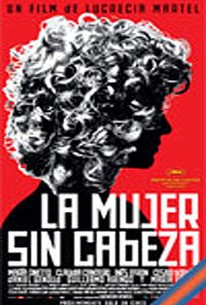 TOMATOMETER
AUDIENCE SCORE
Critic Consensus: Careful and slight, Lucretia Martel's Headless Woman doesn't fit neatly into a clear storyline, but supports itself with ethereal visuals.
La Mujer sin Cabeza (The Headless Woman) Photos
Movie Info
Acclaimed Argentinean filmmaker Lucrecia Martel steps back behind the camera for her third feature film with this tense thriller concerning a woman who fails to recognize the people surrounding her as well as their intentions after inadvertently killing a dog while driving on the highway. Budgeted at two million dollars, The Headless Woman marks the second collaboration between Agustín Almodóvar's El Deseo production company and Buenos Aires-based outfit Lita Stantic -- who had previously teamed to produce the celebrated Cannes Film Festival hit The Holy Girl.
News & Interviews for La Mujer sin Cabeza (The Headless Woman)
Critic Reviews for La Mujer sin Cabeza (The Headless Woman)
Audience Reviews for La Mujer sin Cabeza (The Headless Woman)
With an exemplary cinematography, Martel shapes a simple hit-and-run premise into an intelligent (and unpredictable) social commentary - on race, class and gender issues - as well as a deliberate character study that forces us to share the character's psychological disorientation.
Carlos Magalhães
Super Reviewer
½
"The Headless Woman" is a compelling movie about Vero(Maria Onetto), a middle-aged successful dentist in the middle of an identity crisis. Ever since she dyed her hair blonde, she does not recognize herself anymore. Soon afterwards, she runs over something in the middle of the road with her car while trying to answer her phone, bumping her head in the process. She is not sure what she may have hit but does not do the right thing by stopping right away, either. What we know is what the movie tells us by showing children and a dog playing in the same area before she gets there, so it could be either. Her possibly having a concussion also leads to a sense of dislocation. And the movie plays with this by having police at the hospital where she gets treated but they are not there for her. Eventually her head clears, allowing us to know more about her. Vero is married to Marcos(Cesar Bordon). Her elderly mother says they do not have any children but then she is corrected. In fact, they have two, both in law school. All of which works well in a way but after a partial resolution, the movie eventually just grinds to a halt.
½
Vero is a vibrant, successful, mature woman who, through a moment of inattention, hits something with her car. It could have been a dog, it also could have been a child. La Mujer sin Cabeza is a slow-burn psychological drama, a tragedy that ebbs like a languidly receding tide. This is a premise that could have easily slid into the realm of pretentious melancholy but Maria Onetto's performance gives the story a little balance. A very brave film but one with a lethargic pace and limited appeal. Definitely not for everyone.
Randy Tippy
Super Reviewer
La Mujer sin Cabeza (The Headless Woman) Quotes
There are no approved quotes yet for this movie.