La Mujer sin Cabeza (The Headless Woman)
(2008)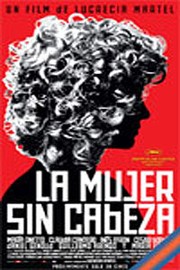 TOMATOMETER
AUDIENCE SCORE
Critic Consensus: Careful and slight, Lucretia Martel's Headless Woman doesn't fit neatly into a clear storyline, but supports itself with ethereal visuals.
Tickets & Showtimes
La Mujer sin Cabeza (The Headless Woman) Trailers & Photos
Movie Info
Acclaimed Argentinean filmmaker Lucrecia Martel steps back behind the camera for her third feature film with this tense thriller concerning a woman who fails to recognize the people surrounding her as well as their intentions after inadvertently killing a dog while driving on the highway. Budgeted at two million dollars, The Headless Woman marks the second collaboration between Agustín Almodóvar's El Deseo production company and Buenos Aires-based outfit Lita Stantic -- who had previously teamed to produce the celebrated Cannes Film Festival hit The Holy Girl.
more
Cast
News & Interviews for La Mujer sin Cabeza (The Headless Woman)
Critic Reviews for La Mujer sin Cabeza (The Headless Woman)
Audience Reviews for La Mujer sin Cabeza (The Headless Woman)
½
Vero is a vibrant, successful, mature woman who, through a moment of inattention, hits something with her car. It could have been a dog, it also could have been a child. La Mujer sin Cabeza is a slow-burn psychological drama, a tragedy that ebbs like a languidly receding tide.

This is a premise that could have easily slid into the realm of pretentious melancholy but Maria Onetto's performance gives the story a little balance. A very brave film but one with a lethargic pace and limited appeal. Definitely not for everyone.
Randy Tippy
Super Reviewer
I've never seen a film quite like "The Headless Woman," from Argentina's Lucrecia Martel. It's not the most thrilling movie ever made, but it is very exciting to see a new form of cinematic storytelling getting invented. I can certainly understand why the film attracted so much attention on the festival circuit last year. Thank God it did, and thank God a U.S. distributor was found. I consider it a privilege that I got to see a film of this artistic caliber.

I found much of "The Headless Woman" riveting and deep. In fact, we've gotten so used to superficiality in film in the last 15 years that audiences may have trouble knowing how to take in "The Headless Woman." It also may be hard for audiences to accept Martel's originality. The film has a tremendous amount of content, but none of it is delivered in obvious or familiar ways.

"Deadpan" is the word that kept coming to mind as I tried to describe Martel's approach. She constructs ultra-flat surfaces that beautifully capture the rhythm and tone of ordinary life. In the middle of a completely banal sequence, such as a family methodically making dinner or washing clothes, Martel will capture one little gesture that reveals a world of information about the power structure governing the family and the larger social order of which the family is a part. She loves to zoom in close on a character's face while he or she goes about seemingly mundane business, catching fleeting moments when something unusual passes across the person's face like a shooting star, indicating hidden depths of feeling or motivation of which the character may not even be aware.

Most great artists have a particular social milieu that they master. Martel is the poet of the South American upper middle class. Especially interesting to her, it appears, are the points of intersection between the upper and lower classes. While the bourgeoisie would surely love to live by itself, the lower classes are everywhere, needed to make every bourgeois institution function, including the family. The upper-class family is presented as a sort of hive, with lower-class worker-bees buzzing about the hive constantly, knowing exactly what their job is and their place. While the classes interact all the time, the inequality in their situations is obvious to everyone. Class inequality, I'd say, is the central topic of "The Headless Woman."

***************

The storyline concerns the possibility of a hit-and-run accident. At the very start of the film, an upper-class fiftysomething woman, a dentist, runs over something on a lonely country road. Martel films the scene brilliantly such that we cannot see what has been hit. In a gripping sequence, again with the use of intense close-up, we watch the woman pull over and try to deal with the situation and her own emotions. She clearly is in a kind of shock. We watch her slowly pull herself together and then drive off. She never gets out of the car and never calls the police.

Martel makes clear that a dog was hit. But was a child also hit? It would seem so, based on the woman's reaction, but it is not certain. The woman wanders around for the next few days in a fog -- like a headless woman. Eventually she tells her husband that she believes she has killed someone. She is obviously upset, but is she concerned about the person who was hit or the legal danger she could now be in?

At this juncture in the film, Martel widens her viewpoint to incorporate more of the family. Their response is fascinating, and here is where the critique of bourgeois power is leveled most powerfully. They start removing evidence, calling in favors from friends who work in the halls of power. Watching these upstanding citizens circle the wagons to defend one of their own was eye-opening and deeply disturbing. Martel holds a mirror up to her society so effectively and in such a quiet way that you don't see it coming. On the surface, everything looks so civilized, well-groomed and friendly. Below the surface, corruption runs rampant.

In the film I also saw an interesting depiction of individuals as almost subsumed by family life, like the clans of pre-modern times. The main character almost never is alone. Siblings, nieces, aunts, and uncles are around her morning, noon and night. When corruption rears its ugly head, the primary motivation is protection of the family. Loyalty to family appears to trump everything else. Family is much more important than neighbor. One is first a member of a family and second a citizen.

Other minor threads fill out the film nicely. Gender roles, for example, are mentioned several times in provocative ways. Middle-aged women more than once castigate teenage girls for being too masculine and too open to lesbian exploration. The home thus becomes a primary zone where gender roles are policed and bisexuality is suppressed.

Martel also from time to time undermines the idea of knowability in interesting ways, seeming to suggest that art should never become too sure of itself. It becomes unclear at the end of the film, for example, whether or not some of the earlier sequences really happened. The woman is shown at a hotel the first night after the accident. But did she really go there? If she didn't, why was it in the film? That kind of murkiness recurs, which I interpreted as Martel's refusal to nail down a "message" with too much certainty. The film emerges more as an open-ended thought exercise, tentatively raising some questions, rather than a hard polemic against this or that social injustice. It also has no interest in obeying the norms of ordinary potboiler fiction. Martel is far too interesting a filmmaker to operate within ordinary realism. A soap opera "The Headless Woman" is not.

****************

The film does have some weaknesses, however. There's a placid dimension to it that is a bit uninspiring at times. Almost aloof. It kind of looks down at its subjects from an empyrean distance, as higher art is wont to do. I think Martel would improve as an artist by coming down off her perch a bit. Also, the feminist, pro-homosexual and anti-bourgeois themes have certainly been done before. In some ways, "The Headless Woman" could be considered derivative of the Marxist European cinema of the 1960s.

But the fact remains, Martel is a major artist. She only recently turned 40 and thus is likely to have 40 more years of productivity. She has only two other feature films under her belt: 2001's "The Swamp" and 2004's "The Holy Girl" (to use their English-language titles). I cannot wait to rent them on DVD and follow Martel's career in the years ahead.
William Dunmyer
Super Reviewer
Discussion Forum
Discuss La Mujer sin Cabeza (The Headless Woman) on our Movie forum!
News & Features