Heart of Stone
(2009)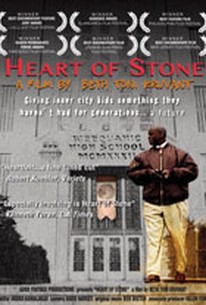 Movie Info
Before 1960 Weequahic High School (WHS) was known as one of the top schools in America. By 2000 it was one of the most violent schools in the 12th most dangerous city in the country. Heart of Stone is the true story of WHS' quest to return to its former glory.sWhen Ron Stone took over as principal in 2001, gangs ruled the school. Crime and shootings were commonplace and during his first month on the job he watched students engage in a mass brawl in every hallway. Stone knew his work was cut out for him and devised an unconventional plan to realize his vision of turning the school around. He started by working with the gangs and establishing the school as a "non-violence" zone. He then partnered with the committed alumni association -- comprised of mostly older Jewish and younger African American alums -- to raise funds for programs and college scholarships that helped transform the gang culture of the school to one of discipline and performance. At Weequahic High School, where Philip Roth immortalized his Newark, NJ as a turn of the century Camelot, we watch an unusual tale unfold where past meets present and adolescents strive to overcome adversity.The WHS experience is a model for other inner city schools to rejuvenate by reaching into their own past. Inner cities were once proud downtown districts with excellent education programs that graduated professionals who long ago moved to the suburbs. Heart of Stone shows how disparate groups can join together to give their old communities something they haven't had for generations...a future.--© Official Site
Critic Reviews for Heart of Stone
Audience Reviews for Heart of Stone
½
This is easily one of the most inspiring and poignant movies (not just documentaries) I have seen in many a year. The depiction of one man's quest to bring good from a hell hole of a high school populated by tough yet hopeless kids from the one of the roughest neighborhoods in the US is inspirational. The dialog and footage of Ron Stone and his students is memorable and insightful. The interplay of the alumni association and their quest to do good is remarkable--how people who have little but history and no other vested interest try to make a difference in the lives of the far less fortunate is quite gratifying. The footage of Newark of yesterday and today bring into focus the vivid contrasts of the people of this neighborhood (or hood). The students featured in the film are people one begins to both like, understand and cheer for as they go through life. This is a film not to be missed, and in my opinion should be must see for high school and college students and their families.
Larry Rothman
Heart of Stone Quotes
There are no approved quotes yet for this movie.
Discussion Forum
Discuss Heart of Stone on our Movie forum!