Hearts and Minds
(1975)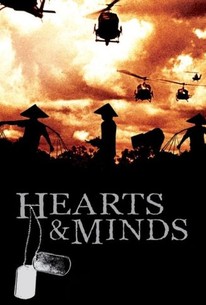 TOMATOMETER
AUDIENCE SCORE
Critic Consensus: A powerful, unflinching exploration of the Vietnam War, with first-person stories from both sides of the conflict, Hearts and Minds still hits the mark decades after its release.
Movie Info
Peter Davis' 30-year-old, landmark documentary unflinchingly confronts the United States' involvement in Vietnam. Using a wealth of sources -- from interviews to newsreels to documentary footage of the conflict at home and abroad -- Davis constructs a powerfully affecting portrait of the disastrous effects of war. 'Hearts and Minds' is an overwhelming emotional experience and the controversial winner of the 1974 Academy Award for best documentary.
News & Interviews for Hearts and Minds
Critic Reviews for Hearts and Minds
Audience Reviews for Hearts and Minds
[font=Century Gothic]"Hearts and Minds" is a documentary about the Vietnam war, made slightly after the United States removed its forces from the country and a year before the fall of Saigon. It is an effectively searing attack on the war starting with the fallacies of rabid anti-communism which was a disguise for imperalistic hubris in aiding the French, thus missing the opportunity to aid Ho Chi Minh after World War II when it had the chance. After that, it was a downhill ride to the racism of the combat troops towards the Vietnamese people. [/font] [font=Century Gothic][/font] [font=Century Gothic]"Hearts and Minds" is a very informative documentary, even though I was very familiar with most of the talking heads.(For example, I was familiar with what Clark Clifford, Daniel Ellsberg and William Westmoreland had to say but had not seen footage of the great senator, J. William Fulbright before.) Where this documentary separates itself from others is the unforgettable imagery of the ground-level view of the war. The movie talks to Vietnamese civilians who are not often heard from.(And compare their views to those of the American bomber pilots...) [/font] [font=Century Gothic][/font] [font=Century Gothic]One last thought: compare "Communism" and "Vietnam" to "Terrorism" and "Iraq."[/font]
½
one of the most powerful documentaries i've ever seen. it's admittedly biased and no surprise it was a big influence on michael moore. still shocking 35 years later. it's hard to tell if we've learned anything and the war machine goes on as brutal and senseless as ever.
Stella Dallas
Super Reviewer
It's the sign of a truly great documentary when it can be powerful, moving, startling, and even eye opening almost 40 years after the fact, when all the facts have already been laid to bear. Hearts and Minds is an incredible documentary made in 1974 about the conflicting attitudes of the Vietnam war. It pulls no punches whatsoever and provides remarkable, revealing interviews with both Americans and Vietnamese; from soldiers to politicians to civilians on both sides, and extremely disturbing footage showing the aftermath of the rash of American bombings within Vietnam, where innumerable innocent civilians were killed, including many children. Obviously, the film leans in the direction of peace, but it's as subjective as a documentary could possibly be on this subject, and it definitely makes one think of the true consequences of war, the nature of American imperialism, and how it all relates to our current situation in Iraq and the rest of the world. I can only imagine how shocking this must have been when it was released not long after the end of the Vietnam war - no wonder it won a very deserving Oscar. This is a seminal documentary, and should be on everyone's "must-see" list.
Christopher Mercer
Super Reviewer
Hearts and Minds Quotes
There are no approved quotes yet for this movie.