Hearts and Minds
(2004)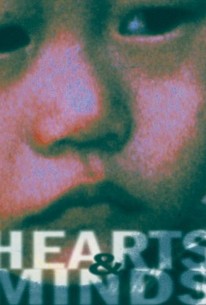 Movie Info
Peter Davis' 30-year-old, landmark documentary unflinchingly confronts the United States' involvement in Vietnam. Using a wealth of sources -- from interviews to newsreels to documentary footage of the conflict at home and abroad -- Davis constructs a powerfully affecting portrait of the disastrous effects of war. 'Hearts and Minds' is an overwhelming emotional experience and the controversial winner of the 1974 Academy Award for best documentary.
News & Interviews for Hearts and Minds
Critic Reviews for Hearts and Minds
Audience Reviews for Hearts and Minds
½
one of the most powerful documentaries i've ever seen. it's admittedly biased and no surprise it was a big influence on michael moore. still shocking 35 years later. it's hard to tell if we've learned anything and the war machine goes on as brutal and senseless as ever.
Stella Dallas
Super Reviewer
It's the sign of a truly great documentary when it can be powerful, moving, startling, and even eye opening almost 40 years after the fact, when all the facts have already been laid to bear. Hearts and Minds is an incredible documentary made in 1974 about the conflicting attitudes of the Vietnam war. It pulls no punches whatsoever and provides remarkable, revealing interviews with both Americans and Vietnamese; from soldiers to politicians to civilians on both sides, and extremely disturbing footage showing the aftermath of the rash of American bombings within Vietnam, where innumerable innocent civilians were killed, including many children. Obviously, the film leans in the direction of peace, but it's as subjective as a documentary could possibly be on this subject, and it definitely makes one think of the true consequences of war, the nature of American imperialism, and how it all relates to our current situation in Iraq and the rest of the world. I can only imagine how shocking this must have been when it was released not long after the end of the Vietnam war - no wonder it won a very deserving Oscar. This is a seminal documentary, and should be on everyone's "must-see" list.
Christopher Mercer
Super Reviewer
½
What more is there to say about a documentary such as this? It is truly required viewing to anyone who wants to comprehend the complexities of war. I've heard derision of this film over at IMDB, partly over the minor connection it draws between the sports-culture in America and the connection with wartime machismo. I believe it is an interesting and not entirely false connection to make. There IS a connection between War and Sport, and I believe the film was not saying anything new by briefly liking the two together, and it only does so on two occasions... specifically, right before a particularly graphic montage of the Tet Offensive. This movie presents both sides, although not always fairly.. but at the same time, it is hard to present the pro-war side fairly when many of their arguments are obviously absurd, callous or evidence of their desire to mitigate their sense of loss, embarassment, or guilt. One of the best, or at least most popular, war documentaries ever made.
Daniel Hetteix
Super Reviewer
Hearts and Minds Quotes
There are no approved quotes yet for this movie.
Discussion Forum
Discuss Hearts and Minds on our Movie forum!