Hearts Beat Loud
(2018)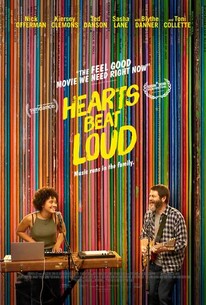 TOMATOMETER
AUDIENCE SCORE
Critic Consensus: Thoroughly sweet, comfortably familiar, and elevated by the chemistry between Nick Offerman and Kiersey Clemons, Hearts Beat Loud offers feel-good father-daughter drama.
Movie Info
Widower and aging Brooklyn hipster Frank starts a band with his teenage daughter Sam just before she leaves home to attend college in California. When a song of theirs finds success online, it complicates Frank's attempts to let go of his dreams of stardom and allow his daughter to find her own path in life.
News & Interviews for Hearts Beat Loud
Critic Reviews for Hearts Beat Loud
Audience Reviews for Hearts Beat Loud
Nothing you haven't seen before in the teen, coming-of-age drama/family relationship genre. In spite of that the performances by Clemons and Offerman are good enough to elevate this film above the formula, and create a dramedy that tugs at the heartstrings.
Spencer Macklin
Super Reviewer
As much as I dislike the fact that great movies go under the radar, I also love not hearing about a movie and then coming across it, only to discover a "hidden treasure" (so to speak). I've always been a sucker for movies that revolve around characters who love music and give their life experiences through their songs because I feel like it's a unique way to build your characters. That may be a personal bias, but I still believe that this is a movie that may appeal to a wider audience than the filmmakers may have originally thought. Hearts Beat Loud is now available to stream and purchase, but upon discovering it, I felt the need to express my feelings toward it. I do feel the potential for awards here, but I don't believe you should hold your breath on that. This is just a very well put together dramedy that I can't recommend enough. College is on the horizon for young Sam (Kiersey Clemons) and her father Frank (Nick Offerman) is on the verge of losing his record store. Being the fantastic singer that she is, Sam impresses her father by performing a song that she wrote herself. Being in a failed band in the past, he quickly jumps on the fact that they could form a duo and possibly make hit music together. Slowly forming a bond through the summer that neither one of them would have predicted, their story alone makes Hearts Beat Loud worth watching. With many secondary stories to only deepen the emotional core of this family, I found myself enthralled in the drama of this movie from beginning to end. On top of great characters, having Nick Offerman and Kiersey Clemons as your lead characters doesn't hurt either. Aside from her breakout role in Dope (which was fantastic), I haven't had the chance to fully appreciate her as a leading lady in a film, until now. She clearly has a bright future ahead of her and I can't wait to see where her career takes her next. That being said, Nick Offerman has always impressed me, so it was no surprise that he was my absolute favourite portion of this film. Dealing with much loss throughout his life and struggling financially to boot, his character needs to feel broken. The way that Offerman gives this character a sense of humour while also feeling incredibly genuine was a breath of fresh air. Where this film will hook you or lose you is in its musical tastes. The finale of this movie leans very heavily on the performances of the lead characters and the music they've created together, so if you can't follow the lyrics or just don't care for the music they're playing, then you may not feel the emotional impact of the conclusion to this film, but I personally was completely engaged and loved every second of it. The way they use music to tell certain portions of this story was very well done and I have to commend a movie that does that. In the end, Hearts Beat Loud is directed with care by Brett Haley. One of my favourite films of 2015 was I'll See You in My Dreams, not for how incredible the story itself was, but by how much care was put into placing you into the movie's world. This is a filmmaker who chooses specific points in characters' lives and focuses in on that while reflecting on their past throughout the course of the films. I love this style of storytelling and it's once again present in Hearts Beat Loud. Aside from viewers maybe not enjoying the music itself, this is a film that cares about its characters from beginning to end, and for that reason alone, I don't have any complaints. I loved this movie.
Hearts Beat Loud Quotes
There are no approved quotes yet for this movie.