Heat and Sunlight
(1987)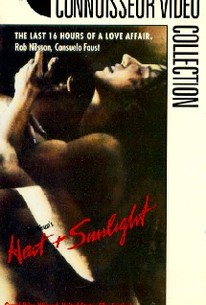 AUDIENCE SCORE
Critic Consensus: No consensus yet.
Heat and Sunlight Photos
Movie Info
Rob Nilsson both directed and starred in Heat and Sunlight. Nilsson plays a San Francisco photographer who has trouble curbing his obsessions. He falls in love with dancer Consuelo Faust, then is unable to shake off his violently jealous impulses when the ardor cools. The musical score by David Byrne and Brian Eno successfully conveys the seismic disturbances in Nilsson's troubled psyche. The film itself lacks cohesiveness, though the individual sequences are for the most part worthwhile. Heat and Sunlight has enough exposed skin and profanity to fully warrant its R rating.
Rating:
R
Genre:
Directed By:
Written By:
In Theaters:
On DVD:
Runtime:
Studio:
New Front Alliance
Cast
Critic Reviews for Heat and Sunlight
All Critics (1) | Fresh (1) | Rotten (0) | DVD (1)
An agonizing low-budget improvised indie about a bunch of neurotics going ape over a relationship split.

Ozus' World Movie Reviews
There's a method to the madness of Heat and Sunlight, and ultimately it's the method that's worthy of our attention.

Audience Reviews for Heat and Sunlight
½
There's a method to the madness of Heat and Sunlight, and ultimately it's that method that's worthy of our attention. Improvised observation as opposed to scripted narration creates an aesthetic all it's own.
Lee Mayo
RATING (0 to ****): 1/2 Rob Nilsson is quite an obscure figure in cinema. Take the wonderful "Signal 7", and it's hard to understand why. But with "Heat and Sunlight", you can be thankful that, though the bad apples in the indie film barrel can never become financial bombs, they can fall deep into obscurity. His "Direct Action Cinema", which apparently has a goal of making movies 100% like real life or something like that, makes Dogme95 look very appealing in comparison. "Julien Donkey-Boy", which I consider the worst movie ever made, didn't turn me entirely off of Dogme, but only the second film I've seen under Nilsson's filmmaking method has ensured that I will not waste my time on another one of his films again. Of course, you're always bound to get a few loyal followers bound to worship this as a piece of high art. Nilsson seems aware of this- one of his characters is a stand-up comedian who wants to try something new: laugh-free comedy. "It's all jokes, but no punch-line. I want to play with the audience's expectations here." Congratulations, you did. But we didn't laugh, nor do we admire how clever it is. Like Nilsson seemed to dedicate "Signal 7" to Cassavetes, one would suspect this is his homage to Warhol's anti-films. For 94 minutes, we get to waste time watching montages between blurry photographs, to the blurrier cinematography of Nilsson as a man who spends the entirety of the film wallowing in self-pity, and occasionally throwing tantrums. The timestamps that occur during the film ultimately tell you this film takes place across 16 hours, and while that's certainly what it felt like, it was sufficient time to wonder why filmmakers find such irritating characters to be so appealing. Oh, and of course, in all this self-pity, he has sex. Nilsson makes us waste time watching 5 minutes of all the most unappealing angles of lovemaking, in slow-motion... and he's still the same ol', same 'ol afterwards. "Who cares? Why does it matter?" says one of his friends. Good point! MPAA: R (language and nudity including a scene of strong sexuality) Runtime: 1 hour, 37 minutes (94 minutes of "real movie")
Eric Jones
Discussion Forum
Discuss Heat and Sunlight on our Movie forum!
News & Features