Heaven with a Gun
(1969)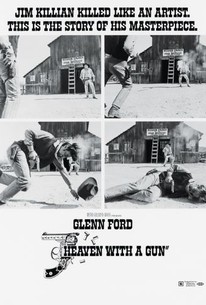 AUDIENCE SCORE
Critic Consensus: No consensus yet.
Heaven with a Gun Videos
Heaven with a Gun Photos
Movie Info
Jim Killian (Glenn Ford) is a reformed gunslinger who takes a job as a local preacher in Vinagaroon, Arizona. He arrives during a time of conflict between shepherds and cattlemen who are engaged in a bloody range war. When Coke Beck (David Carradine) hangs a local Indian, the victim's daughter Leloopa (Barbara Hershey) enlists the help of Killian. He tries to mediate the conflict in a meeting between the rival factions, but a member of the congregation exposes him as an ex-convict. He also enlists the help of the heart-of-gold saloon-operator Madge (Carolyn Jones). Killian and the townsfolk, women included, organize a march to the watering hole -- the center of the controversy. The cattlemen approach and draw their guns in what could be a potentially violent confrontation.
Rating:
R
Genre:
, ,
Directed By:
Written By:
In Theaters:
On DVD:
Runtime:
Studio:
Cast
Critic Reviews for Heaven with a Gun
All Critics (1) | Fresh (0) | Rotten (1)

Ozus' World Movie Reviews
Audience Reviews for Heaven with a Gun
½
1969, the era of peace and love dominates this touching tale. A convict turned preacher with a fast gun who proclaims.."There will be no killing around this church unless it's by me." Glenn Ford says this just that after opening his barn in town as a church. He invites the two rival families (sheep vs cattle ranchers) to meet him at noon. So our story begins. It's a fairy tale, unfortunately. A town split by those that think cattle and sheep can live off the same land. The movie has real credibility issues. The whole town follows our "preacher" Glenn Ford to defeat the cattle ranchers.... it's just a pathetic ending to a promising story. But this isn't some lame television movie after all. Just wait until the 37 minute mark when you get to see a nude shot of a full breasted gal in bed with a bad guy. She gets out of bed and you also see her naked butt. My eyes fell out as in 1969 this sort of thing (esp. with Glenn Ford) was unheard of! The next scene this guy gets his pecker scissored off! Holy smokes! Then an indian girl gets raped! The idea of course is to make the bad guys really really bad. Of course as well Glenn Ford is made to be really really good. Good vs. Bad all over again and not disguised either. [img]http://c3.cduniverse.ws/resized/250x500/movie/824/8927824.jpg[/img] Well, despite this rather lame premise, Glenn Ford is great as usual as this gun packing preacher. It sort of reminds one of Clint Eastwood in Pale Rider, but its not a tale of revenge. [img]http://t3.gstatic.com/images?q=tbn:ANd9GcQChooQShcn-_F88B8TNnIO2mA6s473dnH074i0Rb_BRLzleihH[/img] An early shoot-out in the film There are a few exceedingly bad taste moments in this film revolving around an Indian daughter who wants the affection of Glenn Ford. The movie shows this obviously white girl with smeared mud on her face and perfectly white teeth being some sort of Hopi indian. It's preposterous and laughable today to see this, but it passed as ok in the day I am sure. SEE the entire film here: http://www.youtube.com/watch?v=Pvt88t-13Nw&list=PL521E89DD101C26ED&index=18 [img]http://t1.gstatic.com/images?q=tbn:ANd9GcS7dYDBGIkkReN6MrFdiE9bCVXlHuLuzpfI7N3WVz-4TXLoU0Va[/img] Cast Glenn Ford as Jim Killian Carolyn Jones as Madge McCloud Barbara Hershey as Leloopa John Anderson as Asa Beck David Carradine as Coke Beck J. D. Cannon as Mace Noah Beery, Jr. as Garvey William Bryant as Bart Paterson [img]http://t0.gstatic.com/images?q=tbn:ANd9GcQPBSerhBg4G76P6R8lYqLqCH-Bt7NUkyyFUX1F7UP2y4upHfJs[/img] Directed by Lee H. Katzin Produced by Frank King Maurice King Herman King (associate producer) Red Hershon (associate producer) Studio King Brothers Productions Distributed by MGM Release date(s) June 11, 1969 Running time 101 minutes Written by Richard Car
monsieur rick
Discussion Forum
Discuss Heaven with a Gun on our Movie forum!
News & Features