Hei wong ji wong (Simply Actors)
(2007)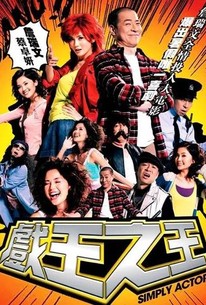 AUDIENCE SCORE
Critic Consensus: No consensus yet.
Movie Info
Man Long Chan (Jim Chim), a constable whose antics and showmanship win him best performance awards at the Force's annual parties, is handpicked by the Deputy Police Commissioner to enroll incognito into a Performance Arts Academy as an experiment in upgrading police acting abilities. Man Long is thrilled that his lifelong acting dreams are finally going to be realized, but quickly finds out that his plain looks and exaggerated performance skills are no match to his younger and better looking classmates. His only good friend in class is a fellow mid-term new student Dani (Charlene Choi), whose claim to fame is starring in a string of skin flicks, but is an aspiring actress with a heart of gold. Man Long's confidence plunges into a downward spiral when he fails in a police operation and nearly loses his life. Then a favor he extends to Dani turns into an outright expulsion from the academy. In his darkest moments he meets a stage janitor (Anthony Wong) whose priceless insights into acting teaches Man Long that the Bard was right in saying that all the world is a stage, and all the men and women are simply actors. We slip in and out of different roles in our everyday lives and the best acting can be cultivated when you pay attention to what you do every second of everyday. In the end, Man Long returns to the Force with a renewed understanding of what it takes to be a good actor. He transplants his newfound knowledge into the future generation of undercovers whose lives will be spared because of Man Long's acting classes.
Critic Reviews for Hei wong ji wong (Simply Actors)
There are no critic reviews yet for Hei wong ji wong (Simply Actors). Keep checking Rotten Tomatoes for updates!
Audience Reviews for Hei wong ji wong (Simply Actors)
This movie is like a textbook for people who wants to be an actor. All the basic elements (facial expression, voicearticuation, body language, imagination. ) are in there. The main actor is from the stage-acting from Europe (Which is why he's acting is exaggerated.). The actress is from the filmagraphy. The clash of the two actors apsrk out a pretty nice engery on screen. The only thing is that the undercover police part of the story sort of complicated the story and sort of made the story too commercalized. All the famous actors in the story made the story a very realistic theatrical comedy.
Hei wong ji wong (Simply Actors) Quotes
There are no approved quotes yet for this movie.