The Heiress
(1950)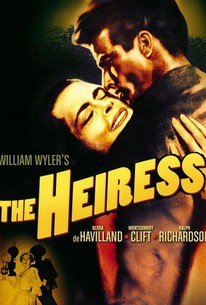 Movie Info
In this film, Catherine Sloper is the plain-Jane daughter of a wealthy widower. Catherine is not only unattractive but lacks most of the social graces. When Catherine falls in love with handsome young Morris Townsend, she believes her love is reciprocated, why else would Morris be so affectionate towards her?
Critic Reviews for The Heiress
Audience Reviews for The Heiress
½
Superlative version of the James novel sharpens and refines the book. Olivia, always a fine actress, gives one of her defining performances revealing the many layers of Catherine during her evolution from doormat to bruised and wary but empowered woman. Clift gives a sly performance, his natural beauty aiding in the belief that he could be a rake living off his looks. Sir Ralph Richardson is simply great as the thoughtlessly cruel father, hinting that in his own obtuse way he has no understanding of what he thinks of as protecting his daughter is actually crippling her and his malice towards her something he doesn't comprehend. Miriam Hopkins is perfectly cast as the flighty Aunt Penniman her fluttery gestures making her seem more vapid than she really is. Selena Royale is also fine as the other sister even though in a smaller role, she, Miriam and Richardson share a fantastic scene that clarifies the relationship of the entire family and his inability to see beyond his own view point no matter the cost. All their superior work would be for naught though were it not for Wylers sure handed direction that keeps the sometimes heavy dramatics feeling personal and involving.
This movie explores the question: is it better to be happily married to someone who just wants your money, or to live a lonely life and keep your millions? Most of the movie is annoying and boring, and I don't like their answer to the question.
What a great closing scene, Morris (Montgomery Clift) pounding on Catherine's (Olivia de Havilland) door as the credits start to roll. Is he just the craven gold digger her father thinks he is, or does he really love her? Catherine isn't exactly loaded with social graces, nor do people find her very attractive or personable. Her father (Ralph Richardson) humors her to a degree, but he knows a lost cause when he sees one. That's why she's so surprised when Morris shows such a keen interest in her. Morris is outgoing, attractive, intelligent and warm. Aunt Lavinia (Miriam Hopkins), ever the romantic, pleads Morris' case to the father, but it's to no avail. De Havilland's transformation is so gradual and yet so drastic that by the end, the Catherine from the opening of the movie is scarcely recognizeable. The Heiress inherits a great deal more than money from those who surround her. As she says "Yes, I can be very cruel. I have been taught by masters". The Heiress deals with the confrontation of one's own reality, and what effect that has on the psyche. Could Catherine be happy deceiving herself, trying to forget Morris only wants her for her money? The father wants Catherine to free her life of allusions, but is it always best to protect those you love from being hurt? In the end, everyone's lives are made up of a little bit of fantasy and a little bit of reality. We're all stars of our own stories, and sometimes it's better to live a lie, especially when the truth hurts.
Devon Bott
Super Reviewer
The Heiress Quotes
There are no approved quotes yet for this movie.