Heist
(2015)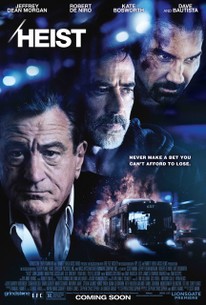 Movie Info
When their attempt to rob a casino owned by the feared gangster Pope (Robert De Niro) goes awry and a shootout ensues, Vaughn (Jeffrey Dean Morgan) and Cox (Dave Bautista) are forced to flee on foot and hijack city Bus 657 and take the passengers hostage. Now, in a high speed chase, Vaughn will not only have to outwit the police, led by Officer Bajos (Gina Carano) who are in hot pursuit, but he will have to contend with Pope's maniacal right hand man, Dog (Morris Chestnut), in order to make it through the day alive. But we quickly learn that things are not what they seem, and Vaughn has more than one card up his sleeve.
News & Interviews for Heist
Audience Reviews for Heist
½
9/21/16 Netflix DVD The best thing you can say about this one is that it has Robert De Niro and it doesn't suck real bad. Lots of f bombs, hokey dialogue and predictable plot lines. It does have a few unexpected twists near the end that keeps it out of the terrible zone. It sure wasn't Speed even if it was on a bus
Nick Ueber
Robert DeNiro has got to be the busiest actor in his age group, because this is the third film I've seen him in this week. So, "Heist" starts off as a strong cops and robbers film, with some heavy hitting actors, Jeffrey Dean Morgan (The Watchmen), Dave Bautista (Guardians of the Galaxy), and the man himself Robert Deniro (umm.... Dick Tracy! there we go, 3 comic book movie references) star in this action go-getter about a casino robbery gone wrong. Not much in terms of plot and story development, a group of lowlifes get it into their heads to rob a riverboat casino (seriously in 2015?) run by a big time gangster who launders money for the Chinese mob. Anyways, the film starts off with a little back story, and gets into the heist right away. Things do not go as planned, and the rest of the film is focused on the getaway. I won't tell you what happens, but the major downfall is how predictable this film is. Character wise, everybody plays a pretty one-dimensional personality, without much gray matter in between their heads. The thief with a heart of gold, the unwavering cop, the psychopathic robber, the crooked cop. It's all pretty bland, but it's well acted blandness. Overall it's not a bad movie at it's most superficial. Short, but not too sweet. Don't expect a fantastic narrative like the film 'Heist' (2001) with Gene Hackman, which is a much better story, with less inane violence. 3/5
Kevin Davies
Entertaining and full of suspense, Heist is an adrenaline packed thriller. After losing his job a father who's desperate for money to pay for his daughter's medical treatments joins a crew that knocks over a dirty casino, but when the job goes bad they end up hijacking a bus and are pursued by gangsters and police. Starring Jeffery Dean Morgan, Robert De Niro, Gina Carano, and Dave Bautista, the cast is fairly solid. And the director does a great job at making the bus standoff intense and exciting. The writing however, is rather weak; as it relies on a lot of tropes and has trouble bringing together the various plot threads. A little formulaic, Heist may want for originality, but it still delivers plenty of thrills.
Dann Michalski
Super Reviewer
Heist Quotes
| | |
| --- | --- |
| Cox: | It appears to me they take in a buttload of money every thursday night. It appears to me that if someone were to rob them of their money... |
| Eric: | ...They'd be stealing from the pope? |
Discussion Forum
Discuss Heist on our Movie forum!