Hell and Back Again
(2011)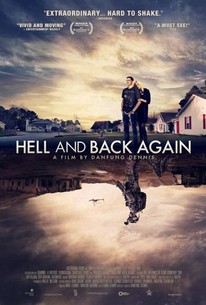 Hell and Back Again Photos
Movie Info
A master filmmaker and photographer, Danfung Dennis follows 25-year-old Marine Sgt. Nathan Harris on his most difficult mission: coming home after being seriously wounded in Afghanistan. Embedded with Harris's unit during their assault on a Taliban stronghold, Dennis brilliantly toggles between the intense experience of war, stunningly photographed by the director himself, and the challenges of re-adjusting to civilian life in small town North Carolina. Hell and Back Again brings the war home in ways that make gun-toting soldiering look like a day at the beach compared with the physical and psychic scars that manifest upon returning home. -- (C) Docurama
News & Interviews for Hell and Back Again
Critic Reviews for Hell and Back Again
Audience Reviews for Hell and Back Again
½
Hell and Back Again is a pretty average documentary that is beautifully shot, uniquely edited, but should've delved into the psychological state of mind of Sgt. Nathan Harris instead of focusing on merely the physical struggles he faces in getting back into shape and fit for combat once more. The emotional connection could definitely been stronger and more involving. Hell and Back Again features unique cinematography and editing, but is a generic, if slightly better than average documentary.
Raymond Wieser
Super Reviewer
½
A stirring documentary that looks at the long hard road that many ex-marines have to walk when assimilating back into civilian life. It follows the plight of Nathan Harris, who after being severely wounded in battle, must plunge head first into a new battle at home. It has one of the most stirring opening montages I have ever seen in a documentary. It only lasts about 6 seconds, but it brilliantly sets up the rest of the film. Sadly, the film doesn't live up to the promise of the opening, but is still an important look at the modern veteran. The filmmakers use sound to great effect, layering the sounds of combat over the minutiae of every day life. Showing that even though a soldier may leave the battle, the battle never leaves the soldier. Also, and much more subtly, Harris is shown being escorted by his wife through a maze of shopping malls, fast-food restaurants, and packed parking lots. Harris is visibly frustrated by this way of life that appears more emotionally taxing than the front lines. Begging the question, what exactly are we fighting for over there?
A rather average documentary, at least to me anyways but most critics are giving it rave reviews. I thought that the look and editing was pretty unique for a documentary and made it flow much more effectively then most other documentaries that tend to drag on in real time. The constant flashbacks, that also utilizes a sound dropout, to Sgt. Nathan Harris during his experience at war and then cutting back to everyday life at home during his recovery provide a great contrast. The film gets a little repetitive and never really delves into Sgt. Harris' psychological state of mind or his internal struggle so much as his physical battle to recover from his wounds. All in all, a decent documentary about the struggles of everyday life for our soldiers coming back from war and an interesting watch.
Chris Browning
Super Reviewer
Hell and Back Again Quotes
There are no approved quotes yet for this movie.