Hell-ephone
(2008)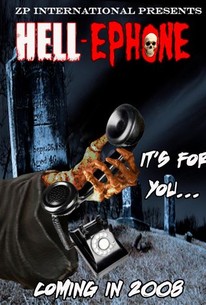 AUDIENCE SCORE
Critic Consensus: No consensus yet.
Movie Info
College students prank people into believing dead people are calling from the afterlife, but their actions have lethal consequences when they attempt to make people believe a dead serial killer has the power to reach back from the great beyond.
Rating:
R
Genre:
,
Directed By:
Written By:
In Theaters:
Runtime:
Cast
Critic Reviews for Hell-ephone
There are no critic reviews yet for Hell-ephone. Keep checking Rotten Tomatoes for updates!
Audience Reviews for Hell-ephone
½
Hell-ephone tells the story of a special group of college students and their mentor known as The Circuit Maker (played over-the-top by the great Ari Lehman) who do intense research on people who have died in order to make the ultimate prank call at funerals that consists of convincing the mark that the dead person is contacting them from beyond. The bigger plot to this story has infamous serial killer, the Sea Monster finally being put to death after years behind bars thanks to town hero, now town drunk officer Billy W. Blackwell. When the group pranks the serial killer's dead mother, his ghost arises and proceeds to kill again, taking out the group as well as other victims. It's now up to faded hero Blackwell to try and solve the case, even though he's the only one that believes the supernatural elements to it. It's another no-budget George Bonilla horrorfest; filled to the brim with originality and uniqueness, unfortunately mixed a ultra-low budget, which can be seen in the acting and effects most of all. Aside from Lehman and Blackwell, there's a bevy of other underground horror actors present throughout, such as John Dugan (original Texas Chainsaw Massacre), David Emery Taylor (Return of Swamp Thing), Kayla Perkins, Jim O'Rear (The Deepening), Alex Del Monocco (Please... Bang My Wife), and Jason Crowe. Like I said, this movie is 110% fun in terms of originality and being so different that the constant barrage of mainstream remakes, reboots, reimaginings, sequels, prequels, and remaquels, but of course it suffers heavily from being so low-budget. If you're someone who can put pettiness of low-budget filmmaking aside, then you may find this little ditty enjoyable, but if you love bullshit like Transformers and other CGI nonsense, avoid at all costs.
Jason Duron
Hell-ephone Quotes
There are no approved quotes yet for this movie.