Hell House
(2002)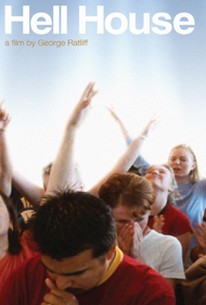 Hell House Videos
Hell House Photos
Movie Info
There's hardly a community in America does doesn't offer some sort of a spook show or haunted house for kids during the Hallowe'en season, but the Hell House, sponsored by the Trinity Assembly of God Church in Dallas, TX, is something a bit different -- rather than scaring kids with folks dressed up as ghosts of vampires, the Hell House offers bizarre performance pieces in which youngsters are offered a glimpse of the fates church elders believe will await them if they stray from the path of a strict Christian life. The skits include tales of a gay man dying of AIDS-related illnesses, a woman bleeding to death after an abortion, a teenage girl who is date raped after being fed drugs at a rave party, and Satanists performing a human sacrifice. Hell House is a documentary that examines the "Hell House" phenomenon (which has inspired a large number of imitators around the country, and has been parodied on television shows such as King of the Hill and The Simpsons), offering a look at the preparations that go into the annual presentation and a glimpse into the lives of the people who stage and perform the cautionary fables.
Rating:
NR
Genre:
, ,
Directed By:
In Theaters:
On DVD:
Runtime:
Studio:
Critic Reviews for Hell House
Audience Reviews for Hell House
An interesting doc about a church that puts on a super elaborate Death House every Halloween. While I understand their goal... this is a very in your face chose-now-or-else kind of ministry that may just turn more people away or achieve false results in the people who accept Jesus at the end just out of fear and not out of a true want of a relationship with Christ. A lot of the time during the prep the church folk come off looking silly as they are telling about the dangers of things they really don't know any real information about. A scene in which two people are talking about how role playing games and Magic: The Gathering leads to worship of the dark arts comes off with the two looking silly as they can't figure out what the name of the card game is. This shows that they never really looked into the things they are condemning... only using the popular targets for their wrath. Likewise, the scene in the House depicting the sin of homosexuality is very cliched as we see a gay man dying of Aids in a hospital. Because everyone knows that only gay people get Aids... It is interesting to see how much effort goes into the creation of the House each year and there are really good scenes of people exiting the house and their reaction to the whole thing. One group of teens get almost violent afterward as a man at the church tries to explain why they put on the event. They spend the whole time cursing and throwing around "facts" about why the church is a fraud only to come off looking moronic and hateful. A good watch no matter who you are and what you believe.
Jason Spencer
Super Reviewer
½
I don't feel like this documentary reveals anything we didn't know was already there. People so ignorant of reality and into their own viewpoint so intensely that they think the Star of David is a pentagram, that Harry Potter and Magic the Gathering lead to Satanism, that AIDs can claim a victim in only a few days and that the disease exclusively targets gay men, that RU486 regularly kills people who take it and is as dangerous as late term abortions, that "date rape drug" or "mickey" is as technical of a name to give, that "speaking in tongues" is spiritual enlightenment and not a coverup for deep emotional trauma and possible mental illness. Just look at this country's voting records and one already knows how many and how deeply ignorant this section of the population really is. This film is good for a laugh and seeing how fundamentalists operate (by a hive mindset that brainwashes children and emotionally susceptible people). I do wish there had been more sequences depicting people who went through being openly outraged at those who put this show on; as it is, there is one sequence but I know that there were hundreds more of those confrontations. Also, some say that this is a non-judgmental film, and that's absolute shit; this film is clearly sympathetic to this ignorant and hateful lifestyle, allowing the people featured to engage in their contrary actions without questioning them (like the guy who acts at the Hell House and then does incredibly mock-violent underground wrestling matches). The film does clearly give these people ample opportunities to spout the doctrines they've been taught to repeat, and lets them do it proudly without any consequence of a followup question.
_kelly .King
Super Reviewer
½
Another very interesting religion doc. Had me laughing a few times during the preparations for the house.
Discussion Forum
Discuss Hell House on our Movie forum!
News & Features