Hell to Eternity
(1960)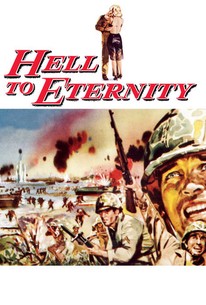 AUDIENCE SCORE
Critic Consensus: No consensus yet.
Movie Info
Guy Gabaldon (Jeffrey Hunter) is the American born adopted son of a West Coast Japanese couple. When Pearl Harbor is bombed, he enlists in the Marines, and his mastery of foreign language helps negotiate a bloodless surrender of defeated Japanese Army regulars in Saipan. Meanwhile, his own family in America is shunned because of their oriental heritage.
Critic Reviews for Hell to Eternity
All Critics (2) | Fresh (2) | Rotten (0)
Earns its stripes by painting the Japanese-Americans during World War II in a positive light and for its relentless attack against racism.

Ozus' World Movie Reviews
Powerful anti-war drama, with a unique point of view on Japanese-American relations.
Classic Film and Television
Audience Reviews for Hell to Eternity
½
Hell to Eternity (1960) I know, a Memorial Day full of war movies. Maybe I've seen far too many of them in my life. It was kind of refreshing to see this movie starring child actor, Richard Eyer, as young Guy Gabaldon, an orphaned child who gets adopted by a Japanese American family and later, as grown up Jeffrey Hunter, becomes a Marine who can speak Japanese. It covers a lot of the hazards of Nisei families during the second world war; being sent to concentration camps while many young Japanese American men joined the Army and fought in Europe. Since Guy can speak Japanese and is aware of Japanese culture he's perfect to talk the Japanese soldiers and civilians to surrender safely, and is nicknamed the pied piper of Saipan. Veteran silent actor Sessue Hayakawa plays the Japanese General Matsui who is trying to talk his men into doing a suicide Banzai charge.
Rick Rudge
½
One of the first films to address the injustice of the WWII internment camps for Japanese Americans. Poorly named Hell To Eternity is a Hollywoodized version of the true story of Guy Gabaldon, a Hispanic boy who was adopted and raised by a Japanese family during the Great Depression. Gabaldon served as an interpreter in the U.S. Marine Corps, ultimately saving many American lives. This film struggles to find it's identity. It seems as though it can't decide whether it wants to be a socio-political drama or an action-packed war picture. The two concepts never effectively merge. They just seem stacked, one on top of the other. The result is a film that sometimes flows, sometimes flounders.
Randy Tippy
Super Reviewer
More of a "Thinking Man's" War flick, the Hispanic heritige of the hero is never mentioned in the film, and the real Guy Gabaldon was not the tall, blue-eyed, painfully handsome specimen as portrayed here by the great Jeffery Hunter (there's the hollywood studio system of the time for you! Note:The real Guy Gabaldon was the technical advisor for this film). It's been several years since I've seen this one, but impressions remain. How Gabaldon esentially "went psycho" after seeing his buddy's skull split wide open by a Japanese Officers Katana sword, how he used his mastery of Japanese language to first hunt down and exterminate the enemy, then later using the same skills to save lives when he realizes with horror that the enemy are telling civilians that the Marines are going to rape/kill/slaughter their children and these hapless people begin throwing the babies off the cliffs and then comitting suicide. This is real stuff that actually happened, in fact there is documentary footage filmed on Saipan of civilians killing themselves. An interesting take on how mixing cultures can have unexpected results, and a servicible combat film based on actual events, I say grab the popcorn & check it out, I'm going to have to get the DVD for my collection and watch this one again. I might change this review after that however! we will see...(for more info see-http://en.wikipedia.org/wiki/Guy_Gabaldon
Black Snake
Hell to Eternity Quotes
There are no approved quotes yet for this movie.
Discussion Forum
Discuss Hell to Eternity on our Movie forum!