Hell Up in Harlem
(1973)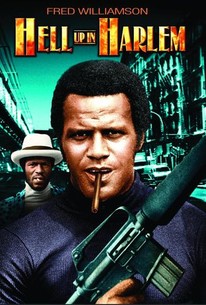 Movie Info
Fred Williamson returns in this sequel to Black Caesar, in which the Harlem mobster fights to regain his power after surviving an assassination attempt.
Critic Reviews for Hell Up in Harlem
Audience Reviews for Hell Up in Harlem
Haven't you ever seen a man shot before? Tommy Gibbs is a man with government secrets that hides from the law and keeps to himself. His ex-wife, who is informed Tommy is in deep trouble, sells off his secrets. She thinks she is saving him; instead, she is kidnapped and tortured. Tommy comes out of hiding and hunts down the men responsible for taking his ex-wife. "He's always had a knack for fucking women." Larry Cohen, director of Original Gangstas, A Return to Salem's Lot, It's Alive, It Lives Again, Wicked Stepmother, and Full Moon High, delivers Hell up in Harlem. The storyline for this picture is okay and contains interesting characters. The script was entertaining with a few funny zingers. The cast delivers okay performances for the genre and the cast includes Fred Williamson, Julius Harris, Gloria Hendry, and Margaret Avery. "An old man is going to whoop my ass?" I am a huge grindhouse fan and appreciate the blaxploitation films within the genre. This is a better than average action picture and a worthwhile addition to the genre. This isn't a perfect picture by any means, but it is worth a viewing if you're a fan of the genre. "You ain't fit to raise children." Grade: C+
Kevin Robbins
Even before the "Black Caesar" reel spun to an end after it's first theatrical showing, American International Pictures new they had a huge moneymaker demanded a sequel. Writer/director Larry Cohen was more than happy to obliged but only one problem kept his sequel from reaching the thrown stature of the original.... it was AIP wanted the sequel yesterday and the mega rushed production rears its ugly head throughout the entire running time of this quickly made, but still enjoyable sequel to the monumental Blaxploitation classic "Black Caesar." The plot picks up right after the first film ended with our title character (Fred Williamson returning) dying in the ruins of his childhood home, clutching the ledgers that contained evidence of every corrupt political and influential individuals in New York. His dad comes to his rescue, saving his son and soon it's daddy and son hitting the streets take sweet revenge on all the politicians that put a hit to have our Harlem godfather killed. The first major problem with this sequel is that it was made so quickly after the first film that Fred Williamson was already busy with another film obligation. Instead of waiting till he was done, Cohen was forced to start shooting the film without his main star and thus a stand-ins had to be used in many shots. Cohen does his best to use clever editing techniques and camera angles to try to hid the fact the actor wasn't there for the entire shoot but it still comes off rather choppy and obvious, taking me out of the picture momentarily. The second problem is Cohen's plot seems condensed to fit into an standard running time. There's enough material here to drag out the engaging story of our black godfather into two more films but apparently AIP didn't feel so Cohen's script moves along too fast, with to many subplots for audiences to keep up. By the time the ending comes around and just felt hallow as even all the subplots weren't resolved properly in the amount of time allotted. Considering all the challenges and brick walls Cohen faced with making this sequel, he still did a credible job and surprisingly, for the most part, makes the film mostly work despite all the flaws caused by its rushed production. Williamson is likeable as ever in his cool yet dark antihero role and I dug the expanded role of his father (Julius Harris, doing a wonderful job). The James Brown-less music is also commendable making this flawed sequel still a must see for fans of the original. Bonus Praise: The film was original made as "Black Caesar's Sweet Revenge" but the producers demanded a title change as this was released so close to the first film that they were afraid people would mistake this sequel as the first film. I don't quite understand this as both "Shaft" and "Slaughter" had similarly titled sequels with "Shaft's Big Score" and "Slaughter's Big Rip-off". However, despite the title change, I have to say "Hell Up in Harlem" is a badass title. If one must change a film's title, make sure it's badass like "Hell Up in Harlem."
Eric Reifschneider
½
Picking up (in a slightly shortened and retconned form) where Black Caesar left off, this direct sequel, while fun, is a but of a letdown. Oh, it's certainly enjoyable, but it makes the mistake a lot sequels make and looks and feels rushed. This is especially true because it was filmed concurrently with another film, with this one being done on weekends. They shouldn't have done that. They did get pressured by the studio to cash in on the success of Black Caesar, and while greed is one thing, laziness and hastiness are completely different, and are no excuse for the drop in quality. The first film was all about character and story. This one goes for the slam bang action route. That's not a bad iddea per se, but the way it is done leaves a lot to be desired. This is a decent sewuel, but it could have been absolutely fantastic. One scholar who reviewd this said he thinks it would have been better had they taken 30-45 minutes from this and added it to the first film to create a single cohesive story instead of making a sloppy sequel. I agree to an extent with that, as that could have been cool, but I much rather like the idea of a direct sequek (so long as it maintained the same level of quality). I don't hate this. In fact, this is a fun popcorn movie. You have no choice but to see the first film though, otherwise this one just won't work. The music is okay, but there's no James Brown. His work on the first wasn't great, but he is missed. In short, this is worth one viewing, just to be a copletist, but it's not a mandatory view. However, there is a fun moment that made me smile, a
Chris Weber
Super Reviewer
Hell Up in Harlem Quotes
There are no approved quotes yet for this movie.
Discussion Forum
Discuss Hell Up in Harlem on our Movie forum!