Hellbound?
(2012)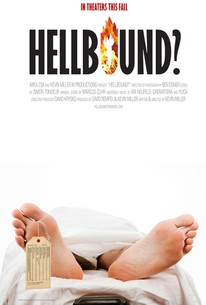 Movie Info
Does hell exist? If so, who ends up there, and why? Featuring an eclectic group of authors, theologians, pastors, social commentators and musicians, "Hellbound?" is a provocative, feature-length documentary that will ensure you never look at hell the same way again! Coming to theaters in Fall 2012. -- (C) Official Site
Critic Reviews for Hellbound?
Audience Reviews for Hellbound?
½
Note: This is the first time in my life I was EVER in a theatre all by myself. Lol, it was funny.... and kinda creepy. So, what this documentary sought out to do is to try to explore the idea of Hell. It's done well enough, although I think that it's not as even-handed as it could be. There are 3 main Christian ideas about Hell: Eternal Conscious Torment, Annihilationism, and Universalism. This movie portrays Universalism quite well: in regards to the logic behind it. Annihiliationism is superficially mentioned... I'd wish there would have been more delving behind the logic to it. And Eternal Conscious Torment isn't portrayed in a good light at all. I could see the logic behind doing this, though: Universalism is usually the thought that's given the least credence... some Christians even view it as heresy. So, if we're going by "let's give a voice to the most voiceless opinion," the fact that Universalism reigns supreme here makes sense.... although, Annihilationism could use some support too, ya know. It's a good documentary in the fact that'll it get you thinking, though. And that's what documentaries should do. It's interesting the whole way through, and this was definitely a good use of my time. The portrayal of Hope in the end almost got to me, too. I can't help that, though... the hope of God always gets to me.
Lucas K
Hellbound? Quotes
There are no approved quotes yet for this movie.
Discussion Forum
Discuss Hellbound? on our Movie forum!