Hellbreeder
(2004)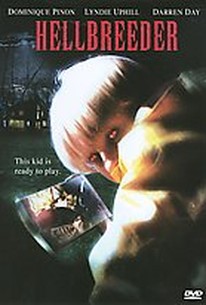 AUDIENCE SCORE
Critic Consensus: No consensus yet.
Movie Info
Rating:
R
Genre:
Directed By:
On DVD:
Audience Reviews for Hellbreeder
The Worst Movie Ever made!!!!!!!!!!!! This movie is a terrible example of anything I have seen Infomercials with better acting and richer plot lines. If there was a way Possble I would Sue everyone involved in this disasterpiece for punitive damages and Theft of my valuable time. The Budget must have been about 45.00 for the movie the actors well probably were from the local street theater. The Transforming Vampire Clown Serial Killer is as frieghtning as a box full of kittens. If you ever do anything in your life stay far, far away from this movie and pray for that anything bad that could ever happen to anyone only happen to the cast and the crew of this movie. The Cops drove like a 85 toyota camry with no lights or police tagging outside the vehicle. All the "Terror Enthralled" Death scenes were the same the Morphing Clown would glow and growl and paw at the victim like a ball of yarn then someone would throw tangerine paint in that general dirction on a floor or a wall to give the impression that someone died from that attack. Filmed Poorly, Directed Poorly, Acting was the most apauling thing to happen to humanity since the holocaust. If you decide that you want to watch it do so only knowing that what ever your spending in gas to pick it up or rent/buy the DVD or VHS would be better off flushed down the Toilet. Seriously The Worst movie ever made hands down.
Curtis Vaughn
Hellbreeder Quotes
There are no approved quotes yet for this movie.