Hellfighters
(1968)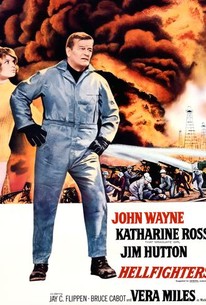 Movie Info
In this action-adventure release John Wayne stars as Chance Buckman, a thrill-seeker who accepts a job fighting oil well fires. Vera Miles plays his ex-wife Madelyn, who can't abide by his love of danger.
Critic Reviews for Hellfighters
Audience Reviews for Hellfighters
½
Not the best Wayne out there (wink wink)! Movie seems to be edited weird. Talking...then BLAM! your off to a fire. I wonder how much fuel was used to make this movie? A lot of the fires seem to be actual big fires....damn the '60-'70's must have been nice. Go ahead waste natural resources...we got plenty of 'em. Let the future people worry about their stupid future problems. And where are these kinda people now....could use a bad-ass to perhaps stop a certain spill!
Phat Pat
This is a very entertaining film. Some of the acting of Jim Hutton & Katharine Ross may have been less than one would expect. But the film should be seen keeping mind that this was years before the disaster films of the early seventies like The Poseidon Adventure & The Towering Inferno. It is a fun watch as Chance Buckman's (John Wayne) crew travels the world putting out oil well fires while kindling a few fires of their own in the local women. It is fun to watch many of the fire-fighting scenes today and wonder how they pulled this off thirty years ago. It is very Wayne as can be seen as some of his regulars turn up here, such as Bruce Cabot, Edward Faulkner who were part of his stable. This is the first time I ever saw Jim Hutton (father of actor Timothy Hutton) in this action-adventure film.
Dean McKenna
Super Reviewer
Katharine Ross reportedly referred to this movie as the biggest piece of crap she;d ever made. While that sentiment is a bit harsh, there's little to recommend beyond a few trademark quips from the duke. Watch True Grit instead
Chip Hall
Hellfighters Quotes
| | |
| --- | --- |
| Greg Parker: | Greg: "Sputter away Dad. We got married yesterday." |
| Greg Parker: | Sputter away Dad. We got married yesterday. |
Discussion Forum
Discuss Hellfighters on our Movie forum!