Hellhounds
(2009)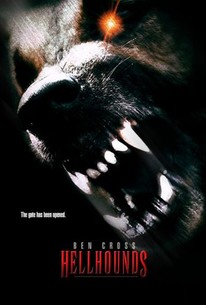 AUDIENCE SCORE
Critic Consensus: No consensus yet.
Movie Info
Director Rick Schroder tries his hand at horror with this nightmarish shocker about an ancient Greek warrior attempting to rescue his wife's soul from the underworld while fending off the hounds of hell. His bride Demetria (Amanda Brooks) poisoned on their wedding day by a jealous rival, crestfallen Kleitos (Scott Elrod) rallies the troops and storms the underworld, where Hades has already laid claim to Demetria's soul. The deeper Kleitos and his warriors venture into the underworld, the greater the danger of falling victim to Hades' snarling pack of vicious hellhounds, who are quickly closing in from all sides.
Rating:
NR
Genre:
, , ,
Directed By:
Written By:
On DVD:
Runtime:
Studio:
RHI Entertainment
Critic Reviews for Hellhounds
There are no critic reviews yet for Hellhounds. Keep checking Rotten Tomatoes for updates!
Audience Reviews for Hellhounds
The nineteenth Maneater movie is a nicely done one.Honestly,Hellhounds defiantly succeeds in entertaining me.However,throughout the movie,it was plagued with laughable questions that reminded me of Sea Beast,which is fine,but wow,I just didn't want this to happen.Our movie's monsters are Hellhounds,most prominently (as you can see by the boxart!),the bass himself,Cerberus.Guardian of the Underworld.I bring that up since on Sy-Fy's website,the monster card,the caption is "Guardian Of Hell".Which,while in Greek Mythology the Underworld is Hell,they should just say Underworld and not Hell! An irritating nit-pick,but let's just move onto the movies plot before we nit-pick at the fact that the DVD font is unusual. The plot is that this Greek guy has to go into the Underworld (I refuse to nit-pick at what I just said or I'll be here until L.A. Noire comes out,nit-picking!) to rescue his murdered bride from Hades....where do I begin? That...that makes no sense! She's DEAD! Hades has her because,guess what,SHE IS DEAD! DEAD! DECEASED! She is gone,she ain't coming back,and yet you go,battle Hellhounds in an attempt to rescue her? I...can not believe how stupid that is! The plot makes no sense,it has no life,I just refuse to accept this! I can not make any sense of it,so please,what good is there? No,this isn't simple.Because THERE IS A PLOT HOLE IN THE PLOT! That reminds me of the ending to a movie I refuse to mention because of it's incredible ineptitude.Ignoring the other movie,where does this piece of trash plot lead to? Fucking Kirkland.Where's that? Exactly,this plot leads NOWHERE.Bottom line,the plot is awful.It goes nowhere.This is,however,the only thing the movie suffers from,somehow. The acting is fine.It's worst problem are the laughable attempts the actors give at a Greek accent.It's honestly hilarious to listen to,and makes the whole thing slightly tolerable (if the plot irritates you).Other than that,the battles with the Hellhounds themselves are cool,and it seems like the actor playing the main hero is trying to make it seem like the Hellhounds are real.Well,everyone else gives a nice performance for a Sy-Fy movie,and a lackluster one for a normal movie.We come a long way from watching people try act with Rubber Spiders,haven't we? Ignoring In The Spider's Web (Hate Spiders even more each time I mention it),the acting really can't be any better for this kind of movie.So over all,the acting is fine. The directing seriously can't be any better than it is considering this is a movie about Hellhounds and Cerberus.The shakiness is feels consistent,it attempts to TRY to get views of the monster while also trying to keep up with the main hero-(Honestly,expecting me to remember names in a Sy-Fy Original is like trying to capture a live Giant Squid with a paper clip,a tissue,and a rock,with your hands tied behind your back,on a chair,with a gas mask,on top of Mount Rainer)-fighting ANY Hellhound.The directing is passable since the movie is written,trying to make it as action packed and dramatic as it can be,like this was made to hold us off for the extremely fun Carny.So the directing is fun to watch as it goes from left to right,trying to get a view of Hellhounds and all that other crap that's happening.It got a laugh out of me more than once,and I wanted to imitate it.Cloverhound seems like a fitting name for this movie.In a nut shell,I enjoyed watching the directing,it was as good as it could get.Which was,honestly,beyond my expectations at times! The characters are good.For starters,there not that badly written.They're some things that could be better,but hey,the hero guy has a motive,a special sword,and some serious abs,so you know he's ready to roll.The Hellhounds are the heroes,they got the teeth,they wanna eat people,and they roar.So you know they're really ready to whoop ass and make dinner out of anyone who tries to kick there asses! Next,the extras do there job.Finally,the Hellhounds kick ass,they're the best characters,and there teeth are nice and shiny,ready to munch,crunch,and make me there snack! So the writers managed to make the plot suck,but make the characters and dialogue good.Ignoring something I wish I could nit-pick at,we're given what we wanted,characters we can't sympathize with,people with abs who wish they where Conan,and awesome Hellhounds.In a nut shell,the characters are good and couldn't be better.Well,if I could sympathize with them,It would be better,but that ain't happening just yet. The dialogue is also good (as I said).The characters development is written fine,the cheesy ass crap that's meant to be dramatic is funny,and the small talk has a small impact.However,the dialogue never answers any of the plot holes I mentioned at the start.Why are we going after someone who's dead? Taken by Hades,just find another hot person.The idea of a magical sword that can kill the Cerberus is fine,but honestly,risking your life to get your woman? Over kill? While granted,that's over shadowed since it's the only thing wrong with this movie,the writer didn't answer questions,I want them answered.Shame on you writer for trying to have me ignore plot holes (which you sorta succeeded at).I'll let it pass since the dialogue is both good and funny.But if there is ever a Hellhounds 2,I want questions answered unless it has nothing to do with this movie and takes place in a small town (which would have made for a movie that woulda kicked major ass).Over all,the dialogue passes.....despite plenty of things I could have nit-picked at,which would have been the entire movie. The CGI is laughable,which is a down fall since every other movie before this (after Wyvern of course) was good.On the other hand,Carny resurrected that winning streak.The Hellhounds got plenty of laughs out of me,and even looking at the DVD case is funny.The Cerberus looks ridiculously funny,and it the high light of the whole movie in two ways (the other being the moment where your sad because it's dead...well,banished).Now putting the laughing matter to the side,this reminds me of the build from Kingdom Hearts a bit.I liked the look in that game,to bad this movie isn't as good as that game.Ignoring that too (This movie is becoming a side tracking annoyance!),the CGI is good for a few laughs,it's fine in other ways,so over all,the CGI passes! Over all,thankfully,this movie as a horrendous plot,but everything else saves it from a Rotten rating.I can't stay on track with this crap none the less,Hellhounds just seems to live in a world of it's own.Is it bad? No,it's got plenty of positives.But for the love of God,this movie was really underwhelming,really disappointing,and over all,just feels like a hold off for the terrific Carny.It's only worth a look if you wanna bash something or want a good laugh.I score Hellhounds a 6 out of 10.Seriously,this could have been so good,but it's plot seriously fucked up beyond belief.How Sy-Fy let the plot pass is beyond me,and it begs way to much.The next Maneater movie fixed all the problems above,further proving that this was just meant to be a hold off.
Chris Skoufis
½
Hellhounds is another film in the long line of Maneater films that range from terrible to so-so. This one falls in the so-so category as it follows the Sinbad/Clash of the Titans genre of films, though with a much, much smaller budget. Directed by former child actor Rick (don't call me Ricky) Schroder (even though they credited his name as Ricky behind his back, lol), Hellhounds tells the story of handsome, chiseled face warrior Kleitos (Scott Elrod) whose about to marry Princess Demetria (Amanda Brooks) until best friend Theron (J.A. Woods), whose always loved Demetria, poisons the princess and kills her before she can marry. But Uh-oh, Hades is looking for a pure, innocent bride, and Demetria happens to be that piece of tail, so Kleitos, Theron, and a nice supply of body count victims travel to the Underworld to save Demetria, which goes by relatively fast through the first half of the film, leaving the second half for the group to fend off now fully-villainous Theron and his Hellhounds (who seem to take forever to get going despite them being the title-characters). The film's most popular actor, Ben Cross (Chariots of Fire) shows up VERY briefly to play the king. Overall, this movie is so-so. It's got an interesting story, but unfortunately, it's backed up by the usual problems of bad actors, poor budget, and icky special effects. Also, this movie would have gained a little more respect from me had it been given a more appropriate name besides Hellhounds (especially since these title monsters are merely an afterthought throughout this entire film save for the last 20 minutes). Pretty dull.
Jason Duron
Hellhounds Quotes
There are no approved quotes yet for this movie.
Discussion Forum
Discuss Hellhounds on our Movie forum!