Hello Again
(1987)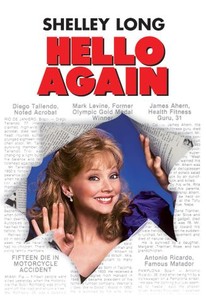 Movie Info
Writer Susan Isaacs and director Frank Perry of Compromising Positions re-team for this resurrection fantasy comedy. Shelley Long plays Lucy Chadman, the accident-prone wife of plastic surgeon Jason Chadman (Corbin Bernsen). When she chokes to death after eating a South Korean chicken ball, a funeral is held and she is mourned, but then everyone goes on with their lives and forgets about her. Everyone, that is, except her sister Zelda (Judith Ivey). Zelda runs an occult bookstore and as she peruses one of her books of incantations, she discovers a magical chant that can raise the dead. Obeying the rules of the incantation -- it has to be performed a year after the person dies and the resurrected person must find love within 30 days or the person will die again -- she brings back Lucy to life. Lucy immediately proceeds to her husband's home and finds that he is married to her best friend Kim (Sela Ward). She now has to deal with the changed circumstances of her husband, along with a burgeoning love affair with Kevin Scanlon (Gabriel Byrne), the emergency-room doctor who had tried to save her life.
Rating:
PG
Genre:
,
Directed By:
Written By:
In Theaters:
On DVD:
Runtime:
Studio:
Touchstone Pictures
Critic Reviews for Hello Again
Audience Reviews for Hello Again
½
A woman resurrects her dead sister; the only rule is she must find true love in a month or sis will croak again. That's the funniest part; sis didn't die of a broken heart she chokes on a chicken ball so why does she need to find true love? Because, this movie must force some kind of reason for her to stay which validates the premise of this comedy is just dumb.
Cameron Fink
★1/2 (out of four) Lousy attempt at a comedy vehicle for Shelley Long, proving that making the leap from television to the silver screen was not an easy one for her. Nothing works and there isn't a single comical moment. Long plays a woman who chokes and dies. Her sister knows how to perform a spell that can bring the dead back to life. One year after she died, Long is resurrected. She heads back to her husband only to find that he has married her best friend, played by Sela Ward. A near complete waste of time. [IMG]http://img.photobucket.com/albums/v48/Zeppo1/HelloAgain.jpg[/IMG]
Steve Smith
A really good dark comedy with a good cast, it's very funny, if you like movies where dead people come back with funny results, you'll like this movie.
Discussion Forum
Discuss Hello Again on our Movie forum!