Hellraiser - Bloodline
(1996)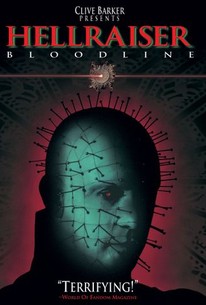 Hellraiser - Bloodline Photos
Movie Info
Clive Barker's horrific creation Pinhead (Doug Bradley) returns to the screen for the fourth (and purportedly final) time in this time-juggling horror opus. In 18th century France, Phillip Lemarchand (Bruce Ramsay) constructs a black puzzle box for the wizard Duc de L'Isle (Mickey Cottrell); however, the box has potentially deadly consequences when it's discovered that it can be used to open the gates of hell, freeing the demonic Pinhead. Two hundred years later, the box finds its way into the hands of John (also played by Bruce Ramsay), a New Yorker and distant descendant of Lemarchand who is being pursued by Pinhead and his minions, while another 200 years hence, Dr. Paul Merchant (Ramsay again) is trying to make his way aboard a space station in hopes of reclaiming the puzzle box, hoping to destroy it before it can be used to once again release the demons upon the world; Merchant is also attempting to build a second box that can close the gates that the first box opens. While makeup artist Kevin Yagher made his directorial debut with this film, the final cut was taken away from him and considerably shortened, which in his mind severely compromised the film's complex, time-traveling narrative. He opted to instead credit his work to Alan Smithee, which was the Directors Guild's official pseudonym for directors who feel their work has been tampered with.
People Who Like this movie also like
News & Interviews for Hellraiser - Bloodline
Critic Reviews for Hellraiser - Bloodline
Audience Reviews for Hellraiser - Bloodline
Hellraiser: Bloodline is one of the best Hellraiser sequels. The film is notable for the Pinhead in space concept. In this fourth entry we get a glimpse of how the puzzle box came into existence which is truly interesting. The box's origins are traced back to toy maker Phillip Lemarchand. The film shows the box's as they are passed on from person to person over the centuries right up to a space station. Many people have dismissed this sequel, but I really don't understand why. The film is very engaging, gory, scary and above all interesting. The film leaves a lot of ideas unfinished due to the budget concerns, however for what it is, Hellraiser: Bloodline is a step up off its previous film, and is the best sequel since part 2. Clive Barker produces this film, and it's a good thing as well because his ideas and imagination is what makes the Hellraiser films (at least the ones he's involved in) worth seeing. It's obvious when he stopped producing Hellraiser sequels, the series started suffering. But Bloodline is a sequel that fans might actually enjoy if they can get passed the budget restraints and B grade acting. This film is quite enjoyable and manages to be a strong sequel despite its flaws. But I wouldn't go ahead and call this film a classic by any means, but I would definitely call it a pleasant time waster.
½
You know your horror franchise is in trouble when it resorts to sending its villain into space. And you know a movie is in really big trouble when it's been directed by none-other than Alan Smithee, the pseudonym coined for directors disowning their films. But despite all it's got going against it, "Hellraiser: Bloodline" is a surprisingly well-made and entertaining entry in the "Hellraiser" saga. Not without huge flaws, "Bloodline" would be the last "Hellraiser" flick to make it to theaters, followed by a cluster of direct-to-video releases that, sadly, are much worse. The director of the film, it turns out, is Kevin Yagher, the go-to guy for creature effects on such franchises as "Child's Play" and "A Nightmare On Elm Street." It seems he was at odds with Dimension (the studio that produced the film) and when they decided to go behind his back and re-shoot some stuff with director Joe Chapelle ("Halloween: The Curse Of Michael Myers") in tow, he walking away, burdening this film with the Smithee trademark. Truth be told, there's an interesting story beneath all the issues this film has, mainly a back-story that tells the creation of the puzzle box, and the war raging between Hell and the bloodline of the creator of the puzzle that spans from the 18th century to modern day (well, 1996, mind you) and all the way to the final frontier of space. "Bloodline" manages to engage and entertain with its tale, especially in the 18th century and modern day bits. These bits (really, 80% of the movie) are the meat (bad word usage considering the film, I suppose) of the film, bookended by the space tale. Aboard a strange spacecraft, we watch Pinhead and the cenobites stalk their way through the crew, which feels less like "Hellraiser" and more like "Friday The 13th" ("Jason X" to be exact) but that's forgivable. What really kills this film are the bits where we watch Pinhead plot and scheme and make rambling speeches. What was once meant as a minor and mysterious character has been reduced to a Freddy Krueger-type (thanks goes to "Hellrasier III: Hell On Earth") and nearly every time he shows up on screen and opens his mouth, the narrative comes to a screeching halt. On the upside, however, the rest of the story is fairly faithful to the source material. The back-story that opens the film is about as mean and gruesome as "Hellraiser" can get, and the modern day piece might have made an okay sequel in its own right. The film also looks good, which will come as a bit of shock considering Yagher's lack of experience in directing. The Joe Chapelle scenes, while directed well, stick out like a sore thumb and are a serious detriment to an otherwise solid sequel. All in all, for a film that was directed by Alan Smithee, "Hellraiser: Bloodline" is ok. Fans of the first two films will feel a rush of relief that most of the corniness at play in "Hellraiser III" has been abandoned (no CD throwing here!) and that, for the most part, this flick remains true to its roots. For all it's got going against it, it's overall entertaining.
David Ladd
Super Reviewer
How can any Hellraiser film get under 4 stars especially on the night before Halloween. . Not from me, but this one was close as Pinhead pops up way way in the future in outer space. But the story goes from outer space back to the past. Which saved this movie. Anyway only one from the past to show up was Pinhead, but some new cenobites were created, as usual unreal special effects and make up. Others might rate lower but I a Hellraiser fan have to sick with a 4 star rating .
Bruce Bruce
Super Reviewer
Hellraiser - Bloodline Quotes
| | |
| --- | --- |
| Pinhead: | Do I look like someone who cares what god thinks? |
| | |
| --- | --- |
| Phillip / John / Paul: | Welcome to oblivion. |
| Pinhead: | Amen. |