Hellraiser: Hellworld
(2005)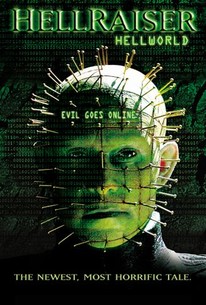 Hellraiser: Hellworld Photos
Movie Info
Clive Barker's sinister creation Pinhead returns again in this horror outing, the eighth feature in the Hellraiser franchise. A handful of teenagers have become big fans of the latest Hellraiser video game -- so much so that they create a tribute website called "Hellworld.com," which simulates a digital Lament Configuration in cyberspace. However, Pinhead (Doug Bradley) is not at all happy with this turn of events, and decides to take action agaist the young people, luring them to a "party" where their frightening fantasies become a far more disturbing reality. Hellraiser: Hellworld also stars Lance Henriksen, Katheryn Winnick, Christopher Jacot, and Henry Cavill.
News & Interviews for Hellraiser: Hellworld
Critic Reviews for Hellraiser: Hellworld
Audience Reviews for Hellraiser: Hellworld
This instalment in the Hellraiser series is a very poor attempt to deliver effective horror. The film contains all the ingredients of your typical horror film. Hellworld is a pathetic attempt at keeping the series going, and unfortunately this isn't the last sequel in the series. Hellworld though a bad film, had a pretty interesting idea, unfortunately the filmmakers can't seem to make it work to effectively build the scares that you'd expect from a Hellraiser film. The concept is interesting, but the execution is poor. Director Rick Bota can't seem to deliver anything that would be of interest. Hellworld is a horrible film, though the concept is interesting, it doesn't go nowhere. Hellworld just goes to show that it doesn't matter whether the script is horrible, the filmmaker won't try to make a good film. The film is poorly made, and it just goes to show that the filmmakers simply didn't care if this film would be good or bad; as long as they made money with this crap sequel, that's all they cared about. This a film that like many in the series, uses the typical clichéd formula to try and create the horror. Sometimes it works, sometime it doesn't. In the case of Hellworld, it doesn't. This film is boring, and uninspired direct to DVD trash. The Hellraiser series becomes more dull with each straight to DVD sequel, and films like Hellword are proof of that.
I've got to say i wasn't too impressed with this to be honest. I love the original hellraisers and i just keep hoping that they make at least 1 more decent sequel but thats looking unlikely. Having said that i've seen worse films but its seems to have gone down the the traditional slasher film a bit too much. The real shame is that there's some good ideas in it. They just don't seem to have been pulled off. Don't go out of your way to watch this unless you're really into the series. It doesn't add anything, just offers a slightly different slant on the story.
Cassandra Maples
Super Reviewer
½
Ummmm.... no. Pinhead in the real world... a video game?? A movie filled with debauchery and uninteresting sex... loads of it, with bucket fulls of fake blood and cheesy has-been horror scenes.... why make things into slashers?? it sucks. Anyways... thats how c-grade horror goes.
Hellraiser: Hellworld Quotes
| | |
| --- | --- |
| Pinhead: | How's that for a wakeup call |
| Pinhead: | How's that for a wakeup call? |
| | |
| --- | --- |
| Pinhead: | Oh what wonders we have to show you |
| Pinhead: | Oh what wonders we have to show you. |