Hell's House
(1932)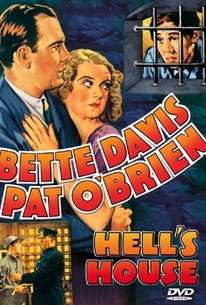 AUDIENCE SCORE
Critic Consensus: No consensus yet.
Movie Info
Bette Davis was on loan from Universal when she appeared in this little juvenile delinquent melodrama from independent producer B.F. Zeidman. Although Davis earned above-title billing (along with Pat O'Brien), Junior Durkin is the real star, a teenager who is sent to juvenile prison after being caught in a raid on a bootlegging establishment operated by Kelly (O'Brien). At juvenile hall, Jimmy befriends Shorty (Frank Coghlan Jr.), a sickly youth who is subsequently sent to solitary confinement. When it appears that Shorty will die without medical attention, Jimmy escapes and manages to contact Kelly's kindhearted girlfriend, Peggy Gardner (Davis). The latter goes to the newspapers and the resulting uproar helps change the inhuman conditions in the country's youth detentions. Unfortunately, the efforts come too late for Shorty, who has already died from the abuse.
Rating:
NR
Genre:
,
Directed By:
Written By:
In Theaters:
On DVD:
Runtime:
Studio:
Capital Films
Audience Reviews for Hell's House
Hell's House (Howard Higgin, 1932) Hell's House still exists in the public consciousness solely because of Bette Davis. That's a literal statement-the movie was thought lost for years, until Davis passed away and her personal film collection was donated to the National Archives; a copy of Hell's House was discovered therein. It was Davis' sixth feature, made when she was still in her early twenties (all five of her previous features were made in 1931); it was also co-lead Pat O'Brien's sixth. But both of these big-name stars pale in comparison, in this potboiler, to the movie's real star, Junior Durkin. Durkin is very little remembered these days thanks to his untimely death in a 1935 road accident (he was only nineteen years old), but he was big business in the early thirties; his very little screen output included playing Huck Finn in both Tom Sawyer (1930) and Huckleberry Finn (1931) and Franz in Phil Rosen's 1934 adaptation of Little Men. While Hell's House is a potboiler, and Davis and O'Brien give it about the treatment it deserves, Durkin throws himself into the role in a way one rarely sees in movies like this. I mean, we're talking Edward-G-Robinson-in-Scarface here. Plot: O'Brien plays Matt Kelly, a bootlegger in the days when that was a profitable business. Durkin plays Jimmy, one of Kelly's hangers-on. After a job gone bad, Jimmy gets nabbed for a minor crime Kelly committed. After refusing to snitch, Jimmy is sent to a reform school that make the conditions on the Island of Doomed Men seem downright hospitable. While there, he befriends Shorty (the great character actor Frank Coughlin Jr. in one of his few credited roles), who has a heart condition exacerbated by the brutal treatment he receives there. Once Jimmy gets out, he enlists Kelly and Kelly's girlfriend Peggy (Davis) to help spread the word about the deplorable reform school and bring its tyrant of a headmaster (James A. Marcus, another often-uncredited character actor) to justice. Yes, it's a genre thriller, predictable and manipulative, an otherwise forgettable product of its time save the fame its two leads would go onto and the once-in-a-lifetime performance given by a child star whose ascent to fame was cruelly ended. But those things make it interesting, at least, as a piece of cinematic history; if you're a student of the early days of film, it's worth checking out on that angle. Others can take it or leave it as they will. **
Robert Beveridge
½
★★1/2 (out of four) An early and mostly forgotten old movie featuring the dynamic Bette Davis. In fact, even though she is only in the film for a small portion of it...she is still the reason to see it. There just isn't much else here to recommend. Junior Durkin plays Jimmy, a teenager who finds himself alone following the death if his mother. She goes to live with his aunt and uncle. He soon finds his way to some trouble when he befriends the shady tenant who rooms at his uncle's. The law catches him in the wrong place at the wrong time and he is sent to a juvenile home where he clashes with the other kids. Bette davis plays the girlfriend of the tenant. [IMG]http://img.photobucket.com/albums/v48/Zeppo1/HellsHouse_zps24938b7f.jpg[/IMG]
Steve Smith
This movie was not what I expected to see when I saw the title was hell's house. I thought it would be a horror movie, but it is a serious drama about young men in prison. It's okay if that's the kind of movie you want to see.
Hell's House Quotes
There are no approved quotes yet for this movie.