Help! I'm a Fish
(2001)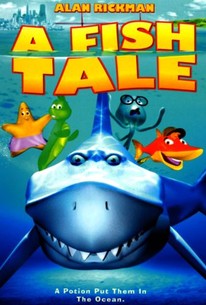 AUDIENCE SCORE
Critic Consensus: No consensus yet.
Movie Info
Rarely has the consequences of a fishing trip been as grave or exciting as in this grandly scaled tale, where three adventurous children unwillingly become denizens of the sea -- and must race against time to reclaim their lives as human beings. -- © 2000 A Film
Rating:
G
Genre:
,
Directed By:
Written By:
On DVD:
Runtime:
Studio:
Critic Reviews for Help! I'm a Fish
All Critics (2) | Fresh (0) | Rotten (2) | DVD (1)
Evidenciando sua falta de respeito pela inteligência dos jovens espectadores, o filme exibe enorme preguiça ao criar soluções absurdas para as situações apresentadas ao longo da narrativa.

Audience Reviews for Help! I'm a Fish
Ever heard of the saying, "Don't judge a book by its cover."? You might want to take that into consideration when you look at the cover of this movie. It's not a CGI film, even though the cover is portraying that by making the characters on the front CGI, and poor CGI at that. The movie is actually hand-drawn and very well animated. Beautiful animation, except for the fish that are in CGI. The main characters themselves aren't CGI, but some of the fih in the background are, and it's not very well done animation. The animation is poor, but it's the only bit of animation that's actually bad. The rest of the film is gorgeously animated, like it came from a Don Bluth film. The story is pretty simple for kids to follow, but perhaps not too entertaining for adults. A young boy named Fly, lives with his younger sister, Stella, and their parents. When his parents go out for the evening, Fly and Stella are left under the care of their aunt and cousin Chuck, who's about Fly's age. Fly blackmails Chuck to follow him and Stella outside of the house, without their aunt's permission, and go fishing. They stumble upon a typical quirky professor, played by Terry Jones, who has created a potion that will anyone who drinks it to turn into a fish. He created it because he believes it'll come into good use when the polar ice caps melt from global warming when it happens. Stella drinks the potion by accident and falls into the ocean as a star fish. Fly and Chuck drink it as well to save her and bring her back to drink the antidote because if they don't in 48 hours, they'll remained fish forever. They finally find Stella but discover that the potion has fallen into the hands, or fins rather, of Joe. Joe, a pilot fish, has a huge shark as his bodyguard and weapon, of sorts, and convinced the fish of the sea to drink the antidote, which had fallen into the ocean, and be able to talk and do his bidding. Joe, himself, is a good villain and Alan Rickman's voice certainly is what brings the character to life. He's a likeable villain and the way Rickman delivers his lines is what makes the role and character memorable. However, this is one of my problems with the film. The child actors did fairly well in delivering their lines, but their characters were pretty generic. You've got Fly, who's the basic leader and adventure-hungry boy. There's also Chuck, who's your basic nerd and logical snob. Stella, of course, is the little cute girl that's just there to make the audience and little girls say "Aw!". Also, the songs in this movie are bad. They sound like Japanese commercials sung in English, and sound more like something from an episode of My Little Pony. The only good songs are the ones that Terry Jones' character sings and, of course, the villain song by Alan Rickman, although it sounds more like he's saying the lines than singing them (similar to Jeremy Irons in The Lion King in 'Be Prepapred'). Like most people, it's Alan Rickman's performance and the simple story that made this movie passable for adults. Not the greatest film when you look at other animated classics that came out from Don Bluth or Disney, but I think it's just Alan Rickman's performance that made me like it as much as I do.
Gladys De La Cruz
Discussion Forum
Discuss Help! I'm a Fish on our Movie forum!