Henry: Portrait of a Serial Killer, Part 2
(1996)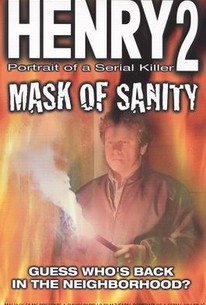 AUDIENCE SCORE
Critic Consensus: No consensus yet.
Henry: Portrait of a Serial Killer, Part 2 Photos
Movie Info
Detached and ruthless psychotic killer Henry returns in this grim, low-budget and violent crime melodrama that is only a pale sequel to the powerful and deeply disturbing original film. Following a montage of brutalized, bloody corpses, the story begins as Henry (Neil Giuntoli replacing Michael Rooker) calmly gets ready to slay his latest victim in a lonely storage building. After spending a night in a hellish homeless shelter, Henry gets a job installing portable toilets and meets Kai, who invites Henry to stay in his home. Kai's wife Cricket welcomes him as does her niece Louisa, a troubled art student who paints pictures of shocking violence. Kai turns out to be a part-time arsonist and teaches Henry how to do it. In turn, Henry teaches Kai about the joys of cold-blooded killing. Meanwhile, Louisa finds herself falling in love with Henry. Like the first, the film is filmed in a flat, Spartan style. There are few really gory scenes.
Rating:
R
Genre:
, ,
Directed By:
Written By:
In Theaters:
On DVD:
Runtime:
Critic Reviews for Henry: Portrait of a Serial Killer, Part 2
All Critics (4) | Fresh (1) | Rotten (3) | DVD (1)

A genuinely creepy and entirely worthy follow-up to McNaughton's film.

Film Journal International
Audience Reviews for Henry: Portrait of a Serial Killer, Part 2
½
Henry: Portrait of a Serial Killer Part 2 is the follow-up ten years later to the jaw-dropping and horrific original as Henry (now played by Neil Guintoli, who does a commendable job but is clearly no Michael Rooker) continues to drift from city to city, racking up a limit-less number of vicious murders. Henry's new stomping grounds has him working for a port-a-potty company where he meets married couple Kai (Rich Komenich) and Cricket (Kate Walsh of Grey's Anatomy, who probably now leaves this movie off her resume), who take Henry into their home. While Kai introduces Henry to his seedy underworld of fire arson (for profit), Henry introduces Kai to his own world of serial killing, which takes them down a darkened path that dooms the entire family. Overall, Henry 2 is dealt the hardest hand ever from the very beginning as it carries on without such important figures to the original film like the original Henry (Rooker) as well as writer/director John McNaughton. While Giuntoli has some decent experience in film by having played in such films as Child's Play, The Borrower (McNaughton's follow-up after Henry), and The Shawshank Redemption, his own interpretation of the infamous Henry character cannot hold a candle to Rooker's. Still, director Chuck Parello manages to create a moderately engaging and violent film that almost carries the same kind of tone and feel that the original had. There's a bit more gore and blood involved in the deaths, which was nice, but in the end, Henry 2 is a weak follow-up to the original. That being said, if this film were presented with a different title (like it weren't a sequel), then this would be a pretty good serial killer movie. Not bad.
Jason Duron
Well this movie is pretty simple Henry now pretty much living on the streets going from place to place decides to settle down when he finally gets a job cleaning toilets at job sites he is taken in by a husband and wife who couldnt be more trailer park and there neice who has a very bad case of crazy also turns out the husband likes to burn stuff down and decides to take henry along for the ride while in return henry shows him how to kill. i really thought the first Henry was perfect in everyway but this one let me down of course Michael Rooker isnt back and the actor taken his place is kinda stiff and wooden still not a bad watch but dont compare it to the orignal in anyway this one stands alone
Henry: Portrait of a Serial Killer, Part 2 Quotes
There are no approved quotes yet for this movie.
Discussion Forum
Discuss Henry: Portrait of a Serial Killer, Part 2 on our Movie forum!