Herb & Dorothy
(2008)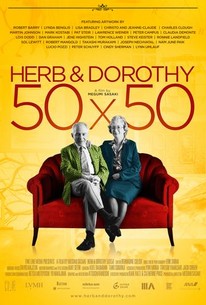 TOMATOMETER
AUDIENCE SCORE
Critic Consensus: While perhaps not as probing as it could have been, Megumi Sasaki's languidly paced documentary is as entertaining as it is inspiring.
Movie Info
The film takes a close look at the historical gift project by the legendary art collector couple, Herbert and Dorothy Vogel, and its impact on art communities around America. Herbert and Dorothy Vogel, a former postal clerk and a librarian, built a world-class collection of Minimal and Conceptual Art with their modest salaries. Over 2000 works were packed into their small NYC apartment, but they never sold a piece for profit. In 1992, they decided to transfer the entire collection to the National Gallery of Art, making headlines worldwide. (c) Fine Line
Critic Reviews for Herb & Dorothy
Audience Reviews for Herb & Dorothy
½
a quirky doc about a new york couple who amassed one of the most impressive collections of contemporary art in america, on the salaries of a librarian and a postal worker. the vogels were compulsive collectors who filled every inch of their small apartment with works purchased from artists they found interesting, before anyone else found them interesting. i had to wonder how they kept their numerous cats from destroying any of their precious works. it's a good thing they never had children! blessed with a good eye and a passion for art, the vogels, once frustrated painters themselves, never dreamed of selling even a single piece, eventually donating it all to the national gallery in washington, so the collection could remain intact and as a gift to the american people. after all, they were public employees all their working lives. they're an adorable couple and much beloved in the new york art world. and they visit their collection once a year.
Stella Dallas
Super Reviewer
½
Herb and Dorthy Vogel walked fine line between collecting and hoarding, but kept the art economy alive to eat and paint day after day. A charming film about two of New York's collectors of minimalist and conceptualist American art, who collected and stuffed 4,000 plus art pieces in their Manhattan apartment filled with turtles, fish and cats o'plenty--all while earning modest incomes.
Sabra Embury
Interesting. But they were hoarders, not collectors. At least in the end. Having seen some modern art in NYC I'm more open to it, but some of the stuff these guys were buying was a joke. They had 4000+ pieces stuffed in their one bedroom rent-controlled apartment along with at least a few cats, turtles in several tanks and several fish. Every square inch of wall space is covered with art, and some of that is covered with blankets for protection light. Starting to sound a little crazy? At some point they decide to give the whole thing away to the National Gallery in DC, but they end up accepting only 1000 pieces. That tells you all you need to know about the value of the collection. Certainly an interesting couple who had a passion for art. But I have a hard time believing they had an eye for good art, as it seems much of what they bought they had to convince the artist himself it was something worth selling. Then again, art is in the eye of the beholder. Someday I will get to the National Gallery and take a look at the collection. And I'd love to know how much they paid for all this stuff!
Steven Stefanik
Herb & Dorothy Quotes
There are no approved quotes yet for this movie.
Discussion Forum
Discuss Herb & Dorothy on our Movie forum!