Hercules Unchained
(1960)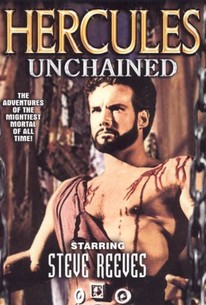 AUDIENCE SCORE
Critic Consensus: No consensus yet.
Hercules Unchained Photos
Movie Info
Steve Reeves' second (and last) film portrayal of Hercules is, in certain ways, better than his first. The plot this time is drawn from the legends surrounding the royal house of Thebes, which are most familiar to audiences through the Theban plays of Sophocles. The movie opens with Hercules, his new bride Iole (Sylva Koscina), and the young Ulysses (Gabriel Antonini) travelling to Thebes following the end of the quest for the Golden Fleece (depicted in the previous movie, Hercules). Their journey is interrupted when Hercules must do battle with the giant Anteus (Primo Carnera), whose strength seems to exceed his own until he realizes that Anteus is the son of the earth goddess and can't be defeated on land. On their arrival in Thebes, the trio discovers that the kingdom is in the midst of civil war -- Oedipus (Cesare Fantoni), the old king, is dying, and his two sons, Polynices and Eteocles, are contending for the throne and threatening to destroy each other and the populace. Hercules must leave Iole in the hands of one side in order to try and settle the dispute between the two would-be kings. While en route between the two armed camps, however, he is put under the spell of Omphale (Sylvia Lopez), the Queen of Lydia, who casts out his memory and takes him as a lover, with Ulysses in tow pretending to be his deaf-mute servant. Ulysses must figure out how to keep himself alive, restore Hercules' memory, get them both out of Omphale's grasp before she tires of Hercules and has him killed (as she has her previous lovers), and get them both back to Thebes before the kingdom is burned to the ground. His solution arrives in the form of his father, Laertes, and Hercules' companions from his voyage for the Golden Fleece. They all escape Omphale's clutches and arrive at Thebes as war has broken out between the two brothers and their armies. In a spectacular denouement, Hercules brings his chariot into the middle of the pitched battle, knocking down assault towers and sweeping cavalry before him to halt the battle. Peace is finally restored on a bittersweet note as the two brothers, Polynices and Eteocles, slay each other.
Critic Reviews for Hercules Unchained
Audience Reviews for Hercules Unchained
½
A silly little film starring body builder Steve Reeves in the Hercules Franchise, it was so bad that I actually laughed a few times.
Sylvester Kuo
Super Reviewer
Hercules Unchained Quotes
There are no approved quotes yet for this movie.
Discussion Forum
Discuss Hercules Unchained on our Movie forum!