Here and There
(2010)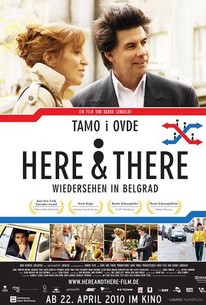 Movie Info
Robert (character actor David Thornton) is a grumpy burned-out musician, trying to survive in Manhattan. When his fed-up friend Rose (Thornton's real-life wife Cyndi Lauper in a small role) throws him out of her apartment, the destitute Robert reluctantly makes a deal with the young Serbian, Branko (Branislav Trifunovic), who's moving his stuff out. For a hefty fee, Robert agrees to fly to Belgrade and marry Branko's girlfriend, Ivana (Jelena Mrdja), so that she can move to New York. Branko gives him a down payment, and Robert goes to Belgrade and moves in with Branko's mother, Olga (Mirjana Karanovic of Emir Kusturica's When Father was Away on Business and Underground). Robert is predictably miserable there, unimpressed with the city's culture and unresponsive to Olga's kindness. Back in New York, Branko faces his own struggles. While he's desperately trying to raise the money to pay Robert, his van is stolen. He begs Robert to stay in Belgrade for another week until he can send the money. Devoid of options, Robert agrees, and, despite himself, slowly begins to enjoy his stay. Here and There marks the narrative feature debut of writer-director Darko Lungulov. The film had its International Premiere at the 2009 Tribeca Film Festival, where it won the award for Best New York Narrative.
Critic Reviews for Here and There
Audience Reviews for Here and There
David Thornton plays a depressed, middle-aged 52 year old NYC jazz musician Robert who suffers from what might be called a musical version of writer's block, facing eviction from his fed up girlfriend. He strikes an unexpected deal with Serbian emigrant Branko who will pay him $5,000 if Robert goes to Belgrade and marries Branko's girlfriend Ivana (Jelena Mrdja), so that she can get a visa and move to New York City but then Branko's van is stolen. Robert finds himself marooned - unpaid, luggage less, and wearing another man's mismatched sweat suit - in Belgrade. Things begin to look up when he meets Olga, Branko's mother, a lovely and gracious divorcée, with whom Robert stays who just so happens to be fluent in English. Olga's charm ignites a spark of life in the dour Robert. Will Branko be able to replace his van and pay Robert? Who will Robert choose to bring to the Big Apple, Ivana or Olga? A bit of trivia for you: The score's title track was written for the film by Cyndi Lauper, who has a cameo and is Thornton's real-life wife.
½
This awkward, unusual indie drama caught me by surprise. Right from the start I was drawn in, and I'm not even sure why. It's very slow moving, and rather strange, but for some reason I was hooked. I have to say that I kind of liked it.....p.s. Cyndi Lauper has a minor role, and it appears the main character is her husband in real life.
Cynthia S.
Super Reviewer
Here and There Quotes
There are no approved quotes yet for this movie.