Herr Tartüff (Tartuffe)
(1925)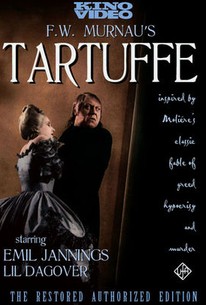 Movie Info
How typical of the great German director F. W. Murnau that he used Moliere's scathing satirical comedy Tartuffe as a launching pad for an extended exercise in expressionism. Emil Jannings plays the title character, a religious hypocrite who capitalizes upon the piety of others to line his own pockets. Lusting after Elmire (Lil Dagover), the daughter of gullible millionaire Orgon (Werner Krauss), Tartuffe all but convinces Orgon to hand over Elmire -- and all his land holdings -- on a silver platter in exchange for Divine absolution. On the verge of triumphantly taking over Orgon's mansion and tossing the old man out, Tartuffe is foiled by the deux ex machina arrival of an emissary of the King, who arrests the "hero" for his chicanery (this final scene was imposed upon Moliere by the French censors; originally, Tartuffe got away with his crimes). In his efforts to make the property more cinematic, Murnau adds a framing story concerning an old woman who tries to cheat an old man out of a fortune while the two of them watch a theatrical performance of the Moliere play. Chock full of offbeat camera angles, forced-perspective sets, and spiderlike shadows, Tartuff owes more to The Cabinet of Dr. Caligari than it does to Moliere. Emil Jannings went on to collaborate with Murnau in the director's next production, a lavish adaptation of Goethe's Faust. ~ Hal Erickson, Rovi
Rating:
NR
Genre:
, ,
Directed By:
Written By:
In Theaters:
On DVD:
Runtime:
Critic Reviews for Herr Tartüff (Tartuffe)
Audience Reviews for Herr Tartüff (Tartuffe)
½
A morality play towards hypocrisy, in this case due to religious fanaticism in the name of the phony. The mockery heavyload is pointed towards hypocrisy not towards religion. The religion itself its just the crooks method. I can only speculate if Murnau vision on religion is poision.
Anders Ask
I love how this movie uses Tartuffe as a story within a story to warn the audience of hypocrites. The character who's saying it, breaks the fourth wall to tell us this warning as well, which was cool. Plus the expressionistic style isn't as pronounced as in some other films, but it's there. Especially in the guy who plays Tartuffe. Murnau sure made some interesting films, I recommend seeing this movie, it's good.
It was a silent movie, the first one I've ever seen. I think that it was pretty enjoyable actually. They sure picked a creepy guy to play Tartuffe.
Herr Tartüff (Tartuffe) Quotes
There are no approved quotes yet for this movie.