He's Just Not That Into You
(2009)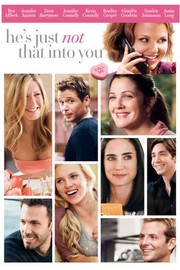 TOMATOMETER
AUDIENCE SCORE
Critic Consensus: Despite the best efforts of a talented cast, He's Just Not That Into You devotes too little time to each of its protagonists, thus reducing them to stereotypes.
He's Just Not That Into You Trailers & Photos
Movie Info
Ken Kwapis' adaptation of Greg Behrendt and Liz Tuccillo's best-selling self-help book He's Just Not That Into You follows the love lives of a dozen or so characters. Ginnifer Goodwin stars as Gigi, a young woman attempting to understand the mixed signals she gets from the men she's dating. She gets advice from a bar owner (Justin Long) who prides himself on understanding the ins and outs of the dating scene. Gigi's co-worker Janine (Jennifer Connelly) finds herself involved in a major redecorating project with her husband, Ben (Bradley Cooper). Unbeknownst to Janine, Ben contemplates an affair with Anna (Scarlett Johansson), an attractive woman trying to make a career as a singer. Another of Gigi's friends at work, Beth (Jennifer Aniston), enjoys a successful, healthy relationship with Neil (Ben Affleck), but storm clouds hover over them as he has no interest in getting married. Kris Kristofferson co-stars as Beth's father. ~ Perry Seibert, Rovi
more
Cast
News & Interviews for He's Just Not That Into You
Critic Reviews for He's Just Not That Into You
Audience Reviews for He's Just Not That Into You
Candy Rose
Super Reviewer
As far as romantic comedies are concerned, I'm usually apprehensive about watching them. I think it's a case of clichéd, predictability that ruins kit for me. But with this film, I thought it was different take on the usual romantic comedy. The result is not a perfect film, but is definitely better than many other rom-coms out there who are predictable and rely on the standard formula that has plagued the genre. I thought that the film was pretty good for what it was, and that it was different than most rom-com, which was a great. The cast here are great and I very much enjoyed the performances. He's Just Not That Into You is flawed, but for the most part, it works well. The film is uneven at times, but there's a certain charm to this film, that's impossible to hate. I'm very picky when it comes to these types of films, but I enjoyed the film for its different approach to the genre. The film is funny and the cast is good, however there are parts that could have been better. But this is still a good little comedy that has plenty of heart. He's Just Not That Into You is one of the few rom-coms that succeeds at actually being good entertainment. While most films in the genre are painfully dull, this one has enough originality to keep you interested. A rom-com that is very different, this one is a must see for viewers tired of the same old formula. Give this one a shot, you may be surprised at how good it really is. He's Just Not That Into is a different type of, and a welcome new on the traditional rom-com formula.
Wow, Ginnifer Goodwin and Scarlett Johansson really did womankind a huuuuge favour by portraying women as unstable, nervous wrecks who spend their entire lives obsessing over signals from men as opposed to, oh, say, doing work or anything. I added half a star for the more mature relationship between Ben Affleck's reliable, charming (too-good-to-be-true) Neil and goodness knows Jennifer Aniston is always a welcome presence. I have never liked Bradley Cooper in any of his roles.
He's Just Not That Into You Quotes
Alex: If a guy treats you like he really doesn't give a shit, then he really doesn't give a shit.
Beth: I just need you to stop being nice to me unless you're gonna marry me.
Gigi: A girl will never forget the first boy she ever likes.
Discussion Forum
Discuss He's Just Not That Into You on our Movie forum!
News & Features