Hey, Boo: Harper Lee and 'To Kill a Mockingbird'
(2011)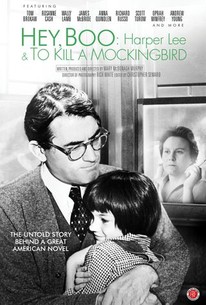 Hey, Boo: Harper Lee and 'To Kill a Mockingbird' Photos
Movie Info
Fifty years after winning the Pulitzer Prize, To Kill a Mockingbird remains a beloved bestseller and quite possibly the most influential American novel of the 20th Century. Nearly one million copies are sold each year and the novel has been translated into more than forty languages worldwide. The film version, starring Gregory Peck as Atticus Finch, won a trio of Academy Awards, and the U.S. Postal Service's new stamp honoring Peck depicts him wearing glasses, as Finch. Behind it all was a young Southern girl named Nelle Harper Lee, who once said that she wanted to be South Alabama's Jane Austen. Hey, Boo explores Lee's life and unravels some of the mysteries surrounding her, including why she never published again. Containing never-before-seen photos and letters and an exclusive interview with Lee's sister, Alice Finch Lee, the film also brings to light the context and history of the novel's Deep South setting and the social changes it inspired after publication. Oprah Winfrey, Tom Brokaw, Anna Quindlen, Rosanne Cash, Wally Lamb, Richard Russo, Scott Turow, Andrew Young and others reflect on the novel's power, influence, and popularity, and the many ways it has shaped their lives. --(c) First Run Features
Rating:
NR
Genre:
,
Directed By:
Written By:
In Theaters:
On DVD:
Box Office:
$31,135.00
Runtime:
Studio:
Critic Reviews for Hey, Boo: Harper Lee and 'To Kill a Mockingbird'
Audience Reviews for Hey, Boo: Harper Lee and 'To Kill a Mockingbird'
It's about what it says it's about - and the problem with this documentary is that, although it may cover every possible thing about Harper Lee and 'To Kill a Mockingbird' - there's only so much you can say. We learn about Lee's childhood and the people who inspired the characters in her book. We hear admirers discuss and justify the fact that she never wrote another book. And most of all we hear LOTS of people tell us how wonderful, daring, timely, and important the book was and always will be. The little fact that fascinated me most was the claim that she had submitted her manuscript around LOTS of places, got lots of rejection - but that the house that eventually published it... saw lots of problems in that draft. So evidently, she had a really good editor who over the course of two years helped her shape a series of vignettes into a cohesive story. If you love love love this book, you'll want to spend an hour and a half learning more about it. For me, this documentary lacked consequence.
Jonathan Degann
½
In Which Scout Grows Up to Be Boo Radley Harper Lee is still alive. Based on what Wikipedia has to say, her health probably isn't very good, but she's still alive. Her sister, Alice Finch Lee, is interviewed in this documentary--she was ninety-nine and still practicing law in the practice their father started. (Yes, Finch; it was their mother's maiden name.) And Harper Lee's minister appears in the movie as well; we are told that she is not a recluse in a true Boo Radley sense. It's more that she has chosen to be a private citizen instead of being the focus of attention, unlike her old childhood friend. She says she has not written anything, though I don't think we'll ever know for sure until she dies. She refused to be interviewed by Oprah Winfrey, but on the other hand, she agreed to have lunch with her at the Four Seasons. However, this documentary gives us few insights into her or her life, being instead mostly a tribute to one of the greatest works of American fiction. Nelle Harper Lee was born and raised in Monroeville, Alabama. She went to New York when she grew up, and she was working as a reservations clerk for an airline. For Christmas one year, her friends Michael and Joy Brown gave her a year off to write a novel. That novel was, of course, [i]To Kill a Mockingbird[/i]. After being rejected nearly a dozen times, it was published and became one of the most influential books ever written in the United States. Harper Lee has refused all interviews for decades, but filmmaker Mary Murphy did arrange for interviews with Lee's sister and minister, Joy Brown, and various other people who have met or been influenced by Harper Lee and [i]To Kill a Mockingbird[/i]. Oh, and Mary Badham, who played Scout in the movie. No attempt is made to separate the impact of the book from the impact of the movie, and Truman Capote is discussed in more detail than is strictly necessary, even if he was Dil. Everyone, including Alice Lee, seems to agree that Atticus was based at least in part on Amasa Coleman Lee, Alice and Nelle's father. It is also true that Atticus generally appears on lists of the greatest fictional fathers. Now, I don't remember much of my father, I must admit. He died when I was six, twenty-nine years ago last month. But it strikes me that it would be a lot of pressure to have a father like Atticus. The movie includes at least one Civil Rights leader who says that it is men like Atticus, and by extension "AC," as he was called, who helped bring about the successes of the Civil Rights movement. Men like Atticus got the laws passed and sat on the bench when the court decisions went against segregation. In fact, when the book was published, the way Tom Robinson was treated by the author and by Atticus was shocking. The book sees Tom Robinson of a person worthy of respect; we are told that this is an attitude the Lee children were raised to have, just as Scout and Jem were. One brief segment in the movie includes looking in on a classroom where [i]Mockingbird[/i] is being taught; after all, practically everyone reads it in school. This is also the only place in the documentary that some of the concerns people have with the book come up. A black student is asked if the language in it will prevent him from reading it. In context, it is clear that what is under discussion is a single word, a word which is referred to but not spoken in the documentary. (Except in a clip of the movie, of course.) Now, it appears to be more obvious to people that Harper Lee was condemning racism than that Mark Twain was when he used That Word in [i]Huck Finn[/i], but there are still people who object to the use of the book in schools because it does, after all, feature That Word. However, the idea that anyone could object to the book without being a Dirty, Dirty Racist is basically never brought up. Even people who just don't like it very much, and I've known a couple. If you believe Harper Lee, the only character in the book who is based on a real person is Dil. No one seems to quite believe this, even her sister; even after having told us this, the movie refers to someone as being the "real" Boo Radley. Scott Turow tells us how every writer is influenced by the world around them; several other people agree that she started with what she knew and created the fictional Maycomb around it. But I think one of the reasons the book, and then the movie, have held such a place in people's emotions has to do with the fact that we have all known various of the characters, no matter where we grew up. Oh, it's possible few of us have really known an Atticus; I think they're scarce. But we've known people we wished to be who were a little way toward being him. Many neighbourhoods have the Scary House, the object of childhood fear and speculation. And, yes, many of us were girls like Scout--bright and tomboyish and curious about everything around us. Some just got into more fights than others, I guess.
Edith Nelson
I really liked this documentary A LOT and I was not expecting that. I don't know if I was surprised how much I liked it because I already knew Harper Lee had not given a real interview in decades, so expectations were not really high, but this is a genuinely touching documentary for anyone who loves the book and/or the movie. There are a lot of people (famous and not) interviewed here who show how much it meant to them.
Sue Smith
Hey, Boo: Harper Lee and 'To Kill a Mockingbird' Quotes
There are no approved quotes yet for this movie.
Discussion Forum
Discuss Hey, Boo: Harper Lee and 'To Kill a Mockingbird' on our Movie forum!