Hg Wells War of the Worlds
(2005)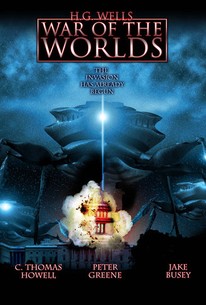 AUDIENCE SCORE
Critic Consensus: No consensus yet.
Movie Info
C. Thomas Howell and Jake Busey star in this updated version of H.G. Wells' science-fiction classic, in which aliens invade Earth. Directed by David Michael Latt. Matt Herbert: Peter Greene. Pastor Victor: Rhett Giles.
Critic Reviews for Hg Wells War of the Worlds
There are no critic reviews yet for Hg Wells War of the Worlds. Keep checking Rotten Tomatoes for updates!
Audience Reviews for Hg Wells War of the Worlds
Basically a poor-man's version of the Spielberg film that's slightly closer to the original novel. It has an interesting cast, but boring characters and bland CGI. It's still the same basic story, so there isn't much originality. Still, it's watchable for the most part.
Wes Shad
½
What a turkey! This direct to SCI-FI channel dvd was released just before the Spielman/Cruise movie of the same name - and managed to be worse! I suspect the prodction staff had only spent 72 seconds flipping through an abridged children's book of HG's classic. The monsters are six-legged creations from Starship Troopers; every few minutes we are reminded of colds, viruses, and flu; the pace is obviously paced for beer and 1-900 commercial breaks; then the most intelligent character, the astrophysicist hero, can't see the ending when it fails to zap him in the face. The only redeeming character is Busey's Lieutenant - he always does a great job playing the self-aggrandizing jerk. The best part of this flick is the ending credits: "The events, characters, and firms depicted in this photo play are fictitious. Really. Any similarity to actual persons, living or dead, or actual events is purely coincidental. and very weird. We suggest moving, and/or staying away from pits with aliens in them. No aliens were hurt during the production of this screenplay. In the case of an actual alien attack, please refer to the duck-and-cover method, which is on page 72 of your manual. Ownership of this motion picture is protected by copyright and other applicable laws, and any unauthorized duplication, distribution, or exhibition of this motion picture could result in criminal prosecution as well as civil liability. Why are you still reading this? Go back to the video store and rent another Asylum film. You know you want to." devil in the details;-)
Christopher Bergan
This was so bad, it had prompted this--my first RT review (I JUST had to write something to get it off of my chest). When trying to find a film version to introduce my school-age son to the War of the Worlds universe, we came upon this (it was the only version available on Netflix). I must say-it has been added to my list of top ten worst films ever made. It would have been top five, but it does make an effort to bring some of the original story's message. It quickly made a strong impression with some sudden, gratuitious nudity (OK, VanWyk-Loot is attractive) in the very first seconds of the film, (and which made his head turn away and created immediate doubts). The rest made my head want to turn away but we stuck with it just to see how bad it could get--and it didn't disappoint in disappointing. Actually, we had more enjoyment at seeing how each next scene developed and how low they were going to go. Howell must have needed a check badly. Plays like a very poor TV screenplay. They also must have had an opportunity to buy props cheaply from Starship Troopers given the bug-like Alien Invaders and Jake Busey. Low budget, bad acting and overall disappointment actually improved the prior film versions. Watch if you want to see how bad it really is--avoid if you are searching for a decent WOTW's renditon.
Robert Tichner
Hg Wells War of the Worlds Quotes
There are no approved quotes yet for this movie.
Discussion Forum
Discuss Hg Wells War of the Worlds on our Movie forum!