Hickey & Boggs
(2000)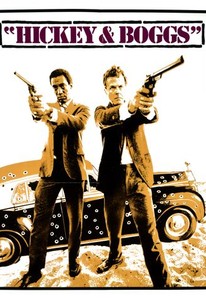 Movie Info
TV's "I Spy" team of Robert Culp and Bill Cosby is reunited in this tale of murder, mobsters and bank robbery. Nyona: Rosalind Cash. Mary Jane: Carmen. Brill: Robert Mandan. Papadakis: Vincent Gardenia. Ballard: Michael Moriarty. Rice: Lester Fletcher. Lt. Wyatt: James Woods. Written by Walter Hill. Culp directed.
Rating:
PG
Genre:
, ,
Directed By:
In Theaters:
On DVD:
Runtime:
Studio:
MVD Music Video
Critic Reviews for Hickey & Boggs
Audience Reviews for Hickey & Boggs
½
Gave it a spin off the TiVo and a cable recording after reading a friend's blog reviews of it, and I have to say that I was pretty impressed. Cosby and Culp manage a nicely bleak feeling from start to finish. Well worth a rental.
Bill Bryant
½
Entertaining detective duo film notable for a young James Woods, Michael Moriority, Isabelle Sanford and others in this fast paced crime suspense drama. Being partial to lead actors Cosby and Culp, I found the movie worth a watch. Robert Culp also directed this private investigator story. Bill Cosby and Robert Culp are united again as private eyes (U.S. government agents in the very popular TV series "I Spy") in this Walter Hill-scripted film. Searching for a missing girl, they find themselves involved with vicious criminals and precipitating a string a deaths. Ex-police themselves, they know all the tricks. Set in Los Angeles, the city of parking meters, Culp puts a paper bag over a parking meter everywhere the team drives to keep from getting a ticket. Lots of amusing lines written into the script keep this suspensful film rolling. Although neither can shoot, the detective team of Hickey and Boggs carry long barrel guns to a shoot-out. These guys are way over their head when it comes to the gang they mess with. But they are not superhuman or super detectives as they are constantly in fear of losing their detective licenses. The police have them in for questioning more than the criminals on the streets. You'll find this a most upbeat though realistic look at detective life in a big city. While the dialog is fast and the plot difficult to follow due to the slang and numerous characters involved, just watching this team in action is fun. The cast has recognizable faces like Michael Moriarity, James Woods and a few others more known today. Young Bill Cosby is nothing physically like his older self today and he is sharper too. Robert Culp also turns in a fine performance as well. But these guys are much younger than today and the film is better for it. Cast Bill Cosby (as Hickey, comedian, I Spy, The Cosby Show) Robert Culp (as partner P.I. Boggs, I Spy, tv actor mostly) Rosalind Cash (tv actress, movies include Klute, Omega Man) Michael Moriarty (of TV's Law & Order, Bang the Drum Slowly) Isabel Sanford (best known for tv sitcom Mrs. Jefferson in The Jeffersons) James Woods (veteran actor and police lietenant) Crew Cinematographer: Bill Butler Composer: Ted Ashford Editor: David Berlatsky Director: Robert Culp Screenplay: Walter Hill Associate Producer: Joel Reisner Producer: Fouad Said Costume Designer: William Ware Theiss
monsieur rick
½
A real surprise and a real treat, especially to see Cosby play it straight. Very well told story that played out very quickly with quick cuts and quick lines. If you are into film noir, this isn't too bad and one of the better modern ones.
Hickey & Boggs Quotes
There are no approved quotes yet for this movie.