Hidden Hollywood: Treasures From The 20th Century Fox Vaults
(1997)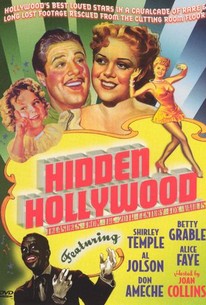 AUDIENCE SCORE
Critic Consensus: No consensus yet.
Movie Info
Joan Collins hosts this series of outtakes and bloopers, deleted from 20th Century-Fox productions from years ago. Sequences include deleted numbers from musicals and includes awkward attempts at musical performances by Don Ameche, Victor Mature and Clark Gable.
Critic Reviews for Hidden Hollywood: Treasures From The 20th Century Fox Vaults
There are no critic reviews yet for Hidden Hollywood: Treasures From The 20th Century Fox Vaults. Keep checking Rotten Tomatoes for updates!
Audience Reviews for Hidden Hollywood: Treasures From The 20th Century Fox Vaults
20th Century Fox's Rescued Ephemera The DVD of Weird Al's movie [i]UHF[/i] comes with deleted scenes. He informs us that they've been sitting on a tape in the back of his closet since the movie was made, and that they're deleted for the excellent reason that they suck. However, that isn't the only reason to delete scenes from movies. Sometimes, the filmmaker changes direction. Sometimes, the footage didn't test well. Sometimes, someone concerned just decides that the film is too long. Sometimes, there is concern about the controversial nature of what is filmed. For whatever reason, things are filmed and then gone. Cut. In the old days, this meant never to be seen again; today, they're saved to put on the DVD. But because they were considered worthless in the old days, there's as much interest in deleted scenes as lost films--and as much reason to believe that they will never be uncovered. I am unsure where the footage in today's film came from, but that it exists at all is a minor miracle. Joan Collins takes us through a tour of footage rescued from the 20th Century Fox cutting room. Mostly, this involves musical numbers, usually cut because the film in question was running long. Or at least, Daryl Zanuck decided the film was running long, and since he was the ultimate authority at the studio, what he said went. There are deleted musical numbers with Bill "Bojangles" Robinson, Shirley Temple, Alice Faye, and others. Comedy numbers with Edward Everett Horton. Katharine Hepburn's first screen test. Even a small scene with Collins herself from some movie I've never heard of. The film does not much discuss the history of lost film, which is only barely relevant, but it does discuss how the footage trimmed was originally considered lost for good and how lucky we are to be able to see these scenes. Okay, I personally could have done without ever seen the Bert Lahr bit, and I had to explain Al Jolson's career to Graham, but still. What was once lost now is found, and that's always a small miracle. To me, the most tragic story is that of Bill Robinson. He is best known these days for appearing as a black servant or slave in various Shirley Temple films. At last, with the film [i]Café Metropole[/i], he was supposed to be getting his first big chance. It was a film for grown-ups, a film about exciting people in a cosmopolitan setting. One of the scenes in this movie is Bill Robinson being introduced to nobility. It's a really beautiful woman who wants his autograph. The scene was cut. His whole part was cut, in fact. You see, it was 1937, and Southern theatres wouldn't screen movies with black people in major roles that weren't servants. Certainly he couldn't be the equal of the other characters, and so his entire role was cut. I don't know what that did to the plot, as I've never seen the movie, but it didn't matter. There was no place for a black man as a major character in a studio release. Of course, some moments hold up better than others. We are told that Bert Lahr knew that he was having trouble in the beginning of his screen career making the transition to acting before the camera to performing onstage. That's part of why his scene was cut. The other part is that it's not a very good musical number. Some of the bits in it made more sense in 1937, but it seems to be a number throwing in several pop culture reference that were probably out-of-date by the time the image hit celluloid. And again, there's Al Jolson in blackface. Yes, that was his thing, and there's no point in trying to cover it up. However, I can't help wondering how many other numbers were out there in those vaults which didn't make this, or its sequel, because they took those five minutes for a Jolson performance that is to modern eyes pretty well indistinguishable from all other Jolson performances. The bit with Shirley Temple and Jimmy Durante is cute, but the montage of Shirley Temple numbers that stayed in their movies kind of started to remind me why I don't watch Shirley Temple movies. I think possibly the surprising thing about the history of film is how impermanent it is. Ask any [i]Doctor Who[/i] fan about the episodes the BBC lost. They just taped over things. We've talked about this before, the silent films crumbled into dust or destroyed by the studios for their silver. The footage of [i]The Magnificent Ambersons[/i] destroyed seemingly just to spite Orson Welles. The lost, the destroyed, the controversial. People don't realize that the wide distribution of film is a relatively new thing, and they think there were always hundreds or thousands of copies of movies. And for a while, there were. A few hundred copies traveling around the country so that they could be played in the various theatres. But those copies were returned and generally destroyed. Recycled. Lost to history. And of course, what was cut didn't even get that much. What we have, we are lucky to have. Even when it's hosted by Joan Collins.
Edith Nelson
Hidden Hollywood: Treasures From The 20th Century Fox Vaults Quotes
There are no approved quotes yet for this movie.
Discussion Forum
Discuss Hidden Hollywood: Treasures From The 20th Century Fox Vaults on our Movie forum!