Hide
(2008)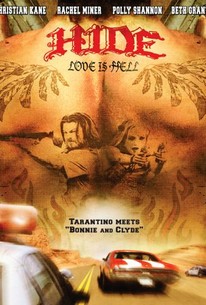 Movie Info
Two lawless lovers careen recklessly down the dangerous path of destruction, murder, and mayhem on their way to meeting the one person who will be their judge, jury, and executioner. Billy and Betty were the Bonnie and Clyde of their generation. But their crime spree came to an end when, after gunning down innocent victims in a violent bank robbery, Billy was apprehended by the authorities and sentenced to life in prison. Seven years later, a jurisdictional technicality states that Billy will have to be tried in a neighboring state, and Betty takes the opportunity to spring her lover during the tense prison transfer. Swiping a car and hitting the road, the pair attempt to pick up where they left off when Betty realizes that Billy isn't the same man she fell in love with. Prison has changed Billy, and after admitting that he feels a terrible sense of remorse for his past transgressions, he reveals that someone is targeting and torturing those closest to him. And there's proof of the crime, too, because whoever is responsible for these heinous crimes has sent photographs of the victims to Billy. Later, as Betty and Billy arrive at their destination to find that the small town has seemingly been abandoned, a scream rips through the darkness and Billy's sister Jenny appears bloody and shaken. Judgment is coming, and although Billy now regrets his past sins, there's no appealing his sentence of death.
Rating:
R
Genre:
, , ,
Directed By:
Written By:
In Theaters:
On DVD:
Runtime:
Studio:
Audience Reviews for Hide
Cheap Natural Born Killers wanna be. The trailer alone was nauseatingly similar to Oliver Stone's controversial classic of a decade and a half previous. I can only imagine this was made for kids who haven't seen Natural Born Killers...
Nicholas Crawford
½
The synopsis is a bit of a misnomer. The female lead is obsessed with Bonnie and Clyde but that is where it stops. The movie is more of a cross between The Butterfly Effect and Secret Window, though darker than the latter. I normally don't like horror but this was ok. It got a little gory for maybe 2 minutes total which is refreshing that it was not gross out horror. The end twist makes the whole movie and suddenly it all makes sense.
Erin Simmons
"In the spirit of Bonnie & Clyde & Natural Born Killers" Where was the spirit? It seemed to start off OK but after awhile I just gave up & didnt care anymore
Brody Manson
Super Reviewer
Hide Quotes
There are no approved quotes yet for this movie.