Hide and Creep
(2004)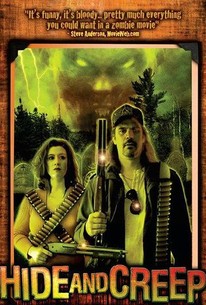 AUDIENCE SCORE
Critic Consensus: No consensus yet.
Movie Info
A backwater Alabama community contends with a zombie outbreak, flying saucers, and mysterious federal agents in this satirical horror flick laced with biting humor. The shambling undead are filling the streets in search of fresh flesh, but the local police are nowhere to be found. Realizing that he'll have to act fast in order to avoid becoming zombie chow, a fearless video store clerk assembles a small task force comprised of a resourceful FBI agent, a retired deputy, and the sheriff's secretary in order to take back their town from the growing army of gut-munchers.
Rating:
R (violence/gore, nudity and some language)
Genre:
Directed By:
Written By:
In Theaters:
On DVD:
Runtime:
Studio:
Crewless Productions
Critic Reviews for Hide and Creep
All Critics (3) | Fresh (3) | Rotten (0) | DVD (2)

Funny and intelligent, Hide and Creep is a film that doesn't take itself too seriously, which only ends up making it mean that much more to the viewer.
Audience Reviews for Hide and Creep
With firmly tongue in cheek, Hide and Creep dishes out laugh-out-loud humor and tons of cheesy fun. 82/100
M. C.K.
"Hide And Creep" is a zombie comedy from a southern-fried point of view on a very low budget. The film is directed by Chuck Hartsell and Chance Shirley, "Hide And Creep" actually forgets it is low budget horror and so did I. The story was pretty tight and well thought out and the humor was spot on throughout most of the film. This indie zomedy stars Chuck Hartsell, Michael Shelton, Kyle Holman, Chris Garrison to name a few in a story of the undead apocalypse with a Dixie beltway, twistedly funny, sense of humor. Residents of small Southern town Thorsby, AL contend with bloodthirsty zombies, a mysterious flying saucer, and bad television reception. "Hide And Creep"starts off right out with a pretty eye opening first scene that makes you realize you are about to watch a funny f*cking zombie movie. I know it was a good flick because my boyfriend hates these funny zombie films and he watched it all the way through with a smile on his face! Yeah that is a big deal because the only time he will watch a horror is if it is serious and intense. I on the other hand like the whole box of colors in my horror kit. Anyway back to my review. There was a considerable and serious amount of attention paid to the story and getting it as tight as possible. It worked great. The humor was low brow, spoofy and smart. Even the actors recruited for this projected committed completely to their characters and a few took it over-the-top enough to stand out as super f*cking funny! The special effects where really low budget-where talking back to Romero's original zombie film with the painted, ghoulish faces and few amp'd up zombies at all. It doesn't affect the quality of this film at all. The director owns this story and his budget completely and with the self-confidence of a Hollywood movie maker. You can when you have a good story that you believe in and the passion to do it justice. "Hide And Seek" is a true celebration of indie/low budget zombie movie making and as embraceable to the horror fan, zombie fan in particular, as "Night Of The Living Dead" and "Shaun Of The Dead". I completely enjoyed this film from beginning to end.
rick russ
½
Low-budget zombie flick with a redneck flair. Take a slew of unknown actors, throw them in a small town in Alabama where the Sheriff and Deputy are gone for the weekend leaving the civilian dispatcher in charge, add loads of zombies (with fair effects), and mix. Supposedly, horror and humor are the result. While neither of these happened for me, I almost enjoyed it enough to recommend but not quite.
Don Schick
Hide and Creep Quotes
There are no approved quotes yet for this movie.
Discussion Forum
Discuss Hide and Creep on our Movie forum!