Hideous!
(1997)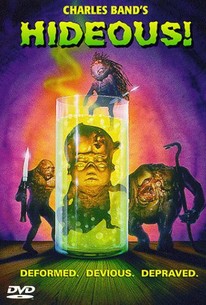 AUDIENCE SCORE
Critic Consensus: No consensus yet.
Movie Info
In this horror thriller, a wealthy collector of mutant human freaks finds himself in deep trouble when the previous owner of his latest acquisition decides he wants it back. But while the two men are battling it out, the creature himself musters his horrifying compatriots to get bloody revenge.
Audience Reviews for Hideous!
Interesting idea with stupid script, stupid actors, cheap music and set. gratuitous nudity used through out, it's so bad, I don't know what I watched. the film also tried to use some black humour but I didn't find it funny at all. It's possibly one of the B-est movies of the 90s. I've learnt that rich people are weird from this film.
Sylvester Kuo
Super Reviewer
When it comes to the majority of Full Moon's movies, you can't really call into question a lot of logic with the stories they are bringing to the screen. Hideous! is one of the more bizarre Full Moon movies I've seen, what with its central characters all being collectors of deformed fetuses. And it also happens to be one of the more enjoyable films I've seen from this studio. The movie doesn't have much merit to it, but in the fashion that it is presented in I came to admire Hideous! a lot. I'm not sure if it was the actors lack of acting abilities, or if each of them were instructed to do so, but Hideous! has some of the most over the top and overly dramatic acting. The characters are presented more like caricatures instead of actual people, but there is a lot of humor that emits from the way these characters are and the way each of the actors portray them. You've got to love a character like Sheila (Jacqueline Lovell), who robs someone at gunpoint wearing only boots, booty shorts and a gorilla mask. Charles Band, who is the head of Full Moon, is rather hit or miss with the features that he's directed for his company. I'm happy to see that Hideous! is one of his more effective films, even with its flaws. And even though the castle that the movie is filmed in has been used in many Full Moon movies before and after, he was able to showcase it in a way that wasn't too distracting. I also liked the inclusion of the acid pit beneath a trap door. The creatures in Hideous! were decently designed, and for the most part were animated fine. The four creatures aren't among the most memorable that Full Moon has created, and Hideous! doesn't put them to much use. There are a few scenes where they do get to kill various characters, but beyond that the film doesn't explore these creatures much or develop them. I wish they could have been a little bit smarter and more sinister like the puppets from the Puppet Master series, or even the toys from Demonic Toys. Hideous! is labeled as a horror film, but I would say that it works more like a comedy. This usually is a bad thing for a horror film, but like many things mentioned before it was one of the many faults that worked in the film's favor. I still don't believe there would be people like the characters in the film that obsess so much over deformed fetuses, well enough to kill over, but at least it makes for an entertaining movie.
Bryan Gomez
Hideous! Quotes
There are no approved quotes yet for this movie.
Discussion Forum
Discuss Hideous! on our Movie forum!